Kinect
@tohm: really excited about this - so I was trying to follow your runthrough & got up to installing SensorKinect - then here's what happened: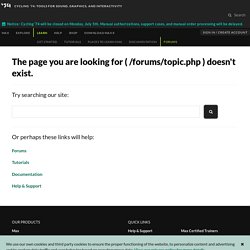 [sharing is the start] OpenNI to Max via OSC
OpenNI to Max/MSP via OSC – tohm judson
OpenNI is a "natural interaction" software that uses the Kinect for XBox 360.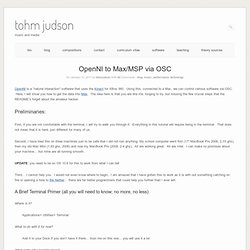 Microsoft Kinect SDK vs PrimeSense OpenNI » Brekel
Today I finished the very first stages of my 4th year research project which was finding a way to take data from the Xbox Kinect and send it to Max/Msp. By using the Ventuz OSC C# wrapper i was able to pack all the X, Y, Z data for all the skeletal points into an OSC bundle and send that to Max where it was unpacked in the patch.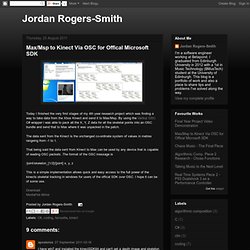 Max/Msp to Kinect Via OSC for Offical Microsoft SDK
Skeletal Data into OSC or VRPN
Sensebloom/OSCeleton - GitHub