Berny44
Berny44
L'ex chomeur au panneau 4x3
Culture emploi
Bienvenue à Zoho Show – l'outil de présentation en ligne. Cost-Effective You don't have to install or maintain hardware and software and reasonably priced subscription plans lead to more cost savings.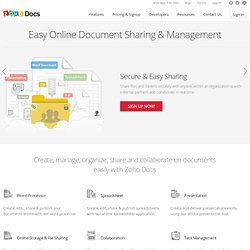 Anytime Anywhere Access Being a web-based document management solution you can take all your documents with you wherever you go with access to them anytime, anywhere. Reduced IT burden Scalability, security, reliability or software upgrades, we have them all covered, so you can focus on enhancing business productivity. Enhanced business continuity Storing your files online keeps all your valuable data safe from various threats and calamities and ensures the normal functioning of your business is not affected. Aide en français.
Humour. Web net. Conseils emploi. Sites Insolites. Réseaux sociaux. Coach Emploi. Portage. Institutionnel. Interim. Cabinet. Personal Branding. CV.
Outils d'aide. Test. Identité numérique perso. Video emploi. Community manager.
---
berny44 Dec 4 2010

Merci. J'essaie d'exporter ? comment fais t-on pour exporter par exemple sur PPT ,merci de ta réponse
---