Berniecot
As 2011 draws to a close, one eye is inevitably on the treats that are lying ahead for 2012. With that in mind, we've got our line-up of, as things stands, the 25 films that are brightest on our radar. Now, a couple of disclaimers. There are films that haven't made the cut here simply because we don't know a fat lot about them yet, or at least not enough to get us fired up. Jack The Giant Killer , Rise Of The Guardians , Red Tails , Chronicle and Dark Shadows all fit into that category. Plus there are the films that we suspect will turn out strongly, but what we've seen of them so far hasn't blown us away ( Brave , Skyfall ).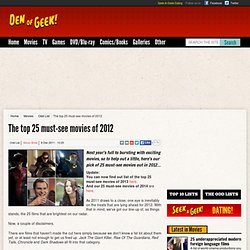 On March 1, 2012, a project for crowdsourced legislation was launched in Finland. It is called The Open Ministry (Avoin ministeriö, in Finnish), and it is the world's first Internet-based legislation platform, where anyone can propose a new law to be evaluated by the Finnish Parliament. The Open Ministry was made possible thanks to the new Citizens' Initiative Act , a recent addition to the Finnish Constitution, by which members of Finland's Parliament are required to vote on all citizen initiatives that garner at least 50,000 valid online signatures.
Susan Fourtane - Finland Begins Crowdsourced Legislation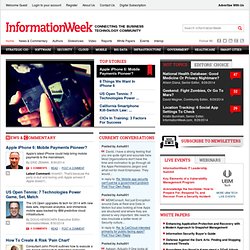 iPad for Teaching & Learning
A year later, Bouazizi's legacy still burns
Protesters carry a coffin draped in the Tunisian flag representing martyr Mohamed Bouazizi on January 24, 2011 in Tunis, Tunisia. Former Tunisian President Zine El-Abidine Ben Ali (R) talks with Syrian President Bashar al- Al Assad (L) in Tunis on July 12, 2010. After three weeks of violent protests over rising unemployment rates, poverty levels, inflation and government repression, Ben Ali fleed the country for Saudi Arabia on January 14. Inhabitants of the central Tunisia region of Sidi Bouzid who slept overnight near the office of the Tunisian Prime Minister in Tunis on January 24, 2011 call for the government to resign. Tunisians hold banners during a rally on February 14, 2011 in Tunis on Valentine's Day celebrating a month of freedom.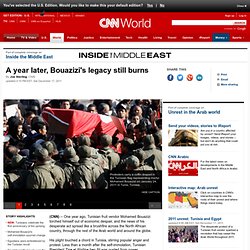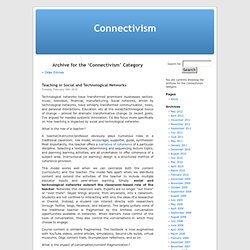 Connectivism
Technological networks have transformed prominent businesses sectors: music, television, financial, manufacturing. Social networks, driven by technological networks, have similarly transformed communication, news, and personal interactions. Education sits at the social/technological nexus of change – primed for dramatic transformative change.
Curation As A Method of Digital Teaching « All The Young (edu)Punks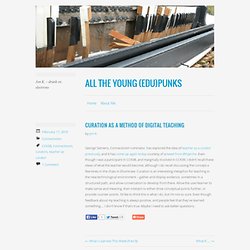 George Siemens, Connectivism ruminator, has explored the idea of teacher as a curator previously , and it has come up again today courtesy of a tweet from @hjarche . Even though I was a participant in CCK08, and marginally involved in CCK09, I didn't recall these ideas of what the teacher would become, although I do recall discussing the concept a few times in the chats in Elluminate. Curation is an interesting metaphor for teaching in the new technological environment - gather and display evidence, sometimes in a structured path, and allow conversation to develop from there. Allow the user/learner to make sense and meaning, then interject to either drive conceptual points further, or provide counter-points. I'd like to think this is what I do, but I'm not so sure.
Any social movement that challenges the state but leaves streets unsafe and refuse uncollected will rapidly lose legitimacy. The trick is to undermine power by exposing its hypocrisy and to make new rules in the process of unruly contestation. The stay of execution granted to the Occupy the London Stock Exchange (OccupyLSX) camp outside Saint Paul's cathedral just before Christmas is over. The judge has now granted the Corporation of London's request for an eviction order. This request drew extensively on accusations of unruliness, and indeed of criminality, and these clearly played a part in the judge's decision.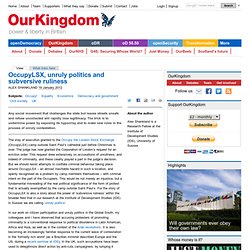 OccupyLSX, unruly politics and subversive ruliness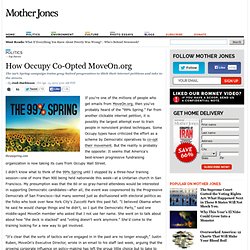 the99spring.com If you're one of the millions of people who get emails from MoveOn.org , then you've probably heard of the "99% Spring." Far from another clickable internet petition, it is possibly the largest attempt ever to train people in nonviolent protest techniques.
How Occupy Co-Opted MoveOn.org
OccupyUSA Central Sources
Militarized to Its Bones – Politics
This post originally appeared at TomDispatch . These last weeks, there have been two "occupations" in lower Manhattan, one of which has been getting almost all the coverage -- that of the demonstrators camping out in Zuccotti Park. The other, in the shadows, has been hardly less massive, sustained, or in its own way impressive -- the police occupation of the Wall Street area. On a recent visit to the park, I found the streets around the Stock Exchange barricaded and blocked off to traffic, and police everywhere in every form (in and out of uniform) -- on foot, on scooters, on motorcycles, in squad cars with lights flashing, on horses, in paddy wagons or minivans, you name it. At the park's edge, there is a police observation tower capable of being raised and lowered hydraulically and literally hundreds of police are stationed in the vicinity.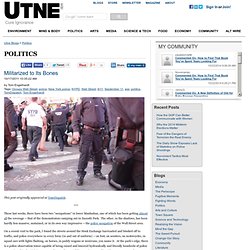 Occupy Congress
NYU to add course on OWS next semester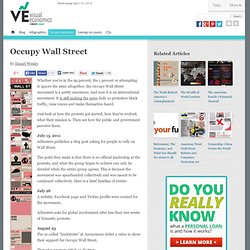 Whether you're in the 99%, the 1%, or attempting to ignore the issue altogether, Occupy Wall Street is a pretty enormous–and now international–movement. It's still making the news daily, blocking traffic, raising voices and making itself heard. Take a look at how the protests got started, how they've evolved, what the mission is and how the public and government perceive it.
Occupy Wall Street -
other OWS pearltrees curators
Email Share 9 Email Share A New Year is a natural time for reflection and planning for change. Time magazine's choice of 'The Protestor' as person of the year owes much to the gallant struggle of our brothers and sisters in the Middle East and Northern Africa - but here in the west, we too have witnessed civil disobedience on a scale not seen for a generation or more. 2011 will be remembered as the year that the people finally stood up to oppressive governments and financial systems the world over.
Issue Eight – 4th January 2012 | TheOccupiedTimes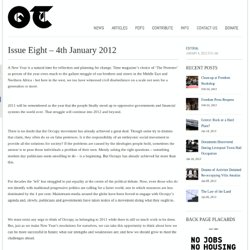 Occupy: From Tahrir Square to Wall Street to...
Student Protests in Mexico -- The Next Arab Spring? (May 27, 2012 - New America Media) Thousands of university students took to the streets of Mexico City Wednesday demanding greater freedom of speech in the country and protesting the PRI's possible return to power... An Open Letter to the Mainstream English Media, From Montreal (May 27, 2012 - Occupy Wall Street)
Occupy Wall Street and Foreclosures
OCCUPY: Why It Started. Who's Behind It. What's Next.
SF, LA Negotiating to Close Occupy Encampments
The Occupy movement occupied two parallel, rarely intersecting universes in the corporate media. In one, described frequently in the Toronto Star , occasionally in the Vancouver Sun and Globe and Mail and only once in the National Post , Occupy is a worldwide movement created in response to the growing gap between the one percent at the top of the income-and-asset pyramid and the 99 percent below. In the Occupy universe largely described by the other papers, Occupy is little more than a rag-tag bunch of ne'er-do-wells with vague—but nevertheless invalid—goals who need to get a job. Such a characterization may not be surprising given that almost all newspapers are owned by card-carrying members of the one percent .
How Canada's corporate media framed the Occupy movement
Truthout has been covering the Occupy Wall Street movement on the ground from the first day, and we'll be there until the goals of the movement are reached. This is something different - a movement based on the idea of Justice, an idea which cannot be co-opted, crushed or subverted. While this movement for Justice continues to build solidarity around the US and around the globe, Truthout will cover it every step of the way. -TO/mr
Occupy the Narrative