Touchpad
Hp Touchpad Apps | HP Tablet Mini Laptop
webOSroundup | News, Reviews, Apps | HP webOS, TouchPad, Pre, Veer |webOSroundup
Finding and installing apps on the HP TouchPad
HP Touchpad: Tips and tricks, best apps, and related accessories
HP Offering TouchPad Owners Free Applications
How about some free applications for your heavily discounted tablet?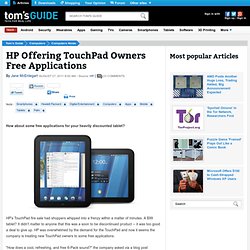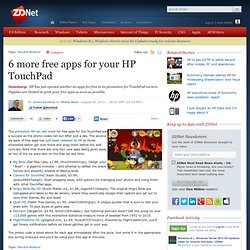 6 more free apps for your HP TouchPad
The promotion HP ran last week for free apps for the TouchPad was a success as the promo codes ran out after just a day. The second six-pack of free apps has just been released by HP so those interested better get over there and snag them before the well runs dry. Note that there are only four new apps being given away as two of the six were also on the free list last time.
TouchPad | Tablet PC | HP® Official Site | U.S.
Supercharge Your New HP Touchpad With Non-Market Apps and Patches
Many of you bargain hunters probably picked up the defunct HP Touchpad last week, and though WebOS isn't exactly thriving, that doesn't mean you can't do some pretty neat things with it.