Art
Get inspired. Get motivated. Practice. Improve your drawing skills! Quick hand-legs-foot tutorial by `Hellobaby on deviantART. Silk — Interactive generative art. "La Divina Comedia", por: Dante Alighieri. - StumbleUpon. V.O.W N°48 // The 3.2 Million Ink Dots Portrait. Photo © Miguel Endara V.O.W N°48 (Video Of the Week, 5 - 11 December 2011) The making of ''Hero'', is a drawing commemorating Miguel Endara's father in a picture.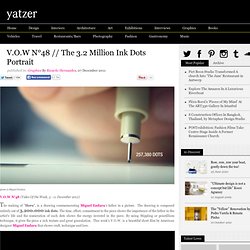 The drawing is composed entirely out of 3.200.000 ink dots. The time, effort, commitment to the piece shows the importance of the father in the artist's life and the numeration of each dots shows the energy invested in the piece. Sketchbookideas. Jackson Pollock by Miltos Manetas, original design by Stamen, press any key to s. - StumbleUpon. Neonflames. - StumbleUpon. Drawing Lessons - How to Draw the Portrait - Drawing Figure - Drawing Still Life. - StumbleUpon. DeviantART muro. Website of Belgian artist Wim Delvoye. CGPortfolio -Yigit Koroglu.
Issue 212 Cover Special - StumbleUpon. Super Mario Brothers Artworks - StumbleUpon. Forked from: [BetweenAS3]uzumaki - wonderfl build flash online - StumbleUpon. CREATIU | Cool Sites, Cool Videos, Design Schools, Trends - StumbleUpon. Stripes - StumbleUpon. FV_18.html from darkpsychedelic.ru - StumbleUpon. List of common misconceptions - Wikipedia, the free encyclopedia - StumbleUpon. This incomplete list is not intended to be exhaustive.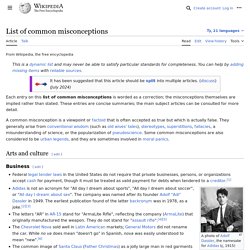 This list corrects erroneous beliefs that are currently widely held about notable topics. Each misconception and the corresponding facts have been discussed in published literature. Note that each entry is formatted as a correction; the misconceptions themselves are implied rather than stated.
---