Laptop
Mowility
Laptopstuff.co.uk
One Laptop per Child
Gaza and Ramallah: Learning as a community UNRWA and OLPC have been working together in Gaza and the West Bank to implement community laptop programs this year. In many schools in such as this one in Ramallah, students use their XOs in class and out. These girls are on their way home. Lessons don't last all day, and children from the nearby towns often spend time outside reading and playing (and sometimes laughing) once school lets out. This year Ramallah held an XO Summer Camp to help hundreds of students learn how to use, repair, and teach with their laptops.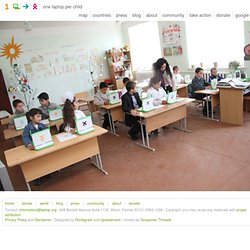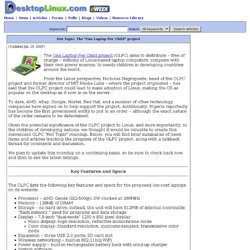 The "One Laptop Per Child" project
(Updated Jul. 13, 2007) The One Laptop Per Child project (OLPC) aims to distribute -- free of charge -- millions of Linux-based laptop computers, complete with their own power sources, to needy children in developing countries around the world. From the Linux perspective, Nicholas Negroponte, head of the OLPC project and former director of MIT Media Labs -- where the project originated -- has said that the OLPC project could lead to mass adoption of Linux, making the OS as popular on the desktop as it now is on the server. To date, AMD, eBay, Google, Nortel, Red Hat, and a number of other technology companies have signed on to help support the project. Additionally, Nigeria reportedly has become the first government entity to put in an order -- although the exact nature of the order remains to be determined.