Webddesign
Css. 10 Templates that Solve Problems for Web Developers - Nettuts+ We live in a web centric world right now, and if you haven't already, you'll most likely be facing website related dilemma(s).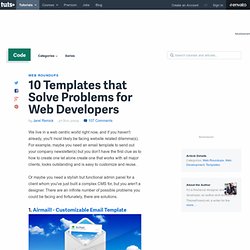 For example, maybe you need an email template to send out your company newsletter(s) but you don't have the first clue as to how to create one let alone create one that works with all major clients, looks outstanding and is easy to customize and reuse. Or maybe you need a stylish but functional admin panel for a client whom you've just built a complex CMS for, but you aren't a designer. There are an infinite number of possible problems you could be facing and fortunately, there are solutions. 1. 69 Sexy Portfolio Designs To Inspire You - Smashing Magazine. Advertisement Today designing a unique, compelling portfolio has become a crucial task for designers, studios, companies and everyone whose business is on the Web.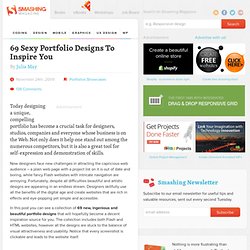 Not only does it help one stand out among the numerous competitors, but it is also a great tool for self-expression and demonstration of skills. Now designers face new challenges in attracting the capricious web audience – a plain web page with a project list on it is out of date and boring, while fancy Flash websites with intricate navigation are annoying. Fortunately, despite all difficulties beautiful and artistic designs are appearing in an endless stream. The Principles of Great Design.
---