Visualization
À propos de Manuel Lima Manuel Lima est un designer d'interaction, un architecte d'information et un chercheur en design. Il travaille actuellement en tant que chef du département experience utilisateur pour le moteur de recherche Bing de Microsoft. Manuel Lima intervient régulièrement lors de conférences et de festivals, partout dans le monde, sur le thème de la visualisation de données, en particulier sur la visualisation de réseaux complexes
tv | revue | Manuel Lima | Visual Complexity
9 Ways to Visualize Proportions – A Guide | FlowingData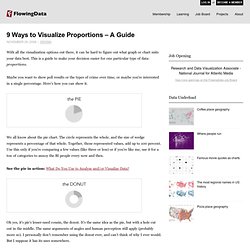 With all the visualization options out there, it can be hard to figure out what graph or chart suits your data best. This is a guide to make your decision easier for one particular type of data: proportions. Maybe you want to show poll results or the types of crime over time, or maybe you're interested in a single percentage. Here's how you can show it.
V.Cerf veut standardiser la migration des données du web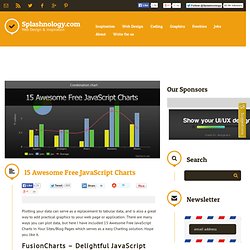 inShare11 Plotting your data can serve as a replacement to tabular data, and is also a great way to add practical graphics to your web page or application. There are many ways you can plot data, but here I have included 15 Awesome Free JavaScript Charts In Your Sites/Blog Pages which serves as a easy Charting solution. Hope you like it. FusionCharts – Delightful JavaScript Charts for your web & mobile apps FusionCharts Suite XT gives you delightful JavaScript charts that work across devices and platforms.
11 Ways to Visualize Changes Over Time – A Guide | FlowingData
Deal with data? No doubt you've come across the time-based variety. The visualization you use to explore and display that data changes depending on what you're after and data types. Maybe you're looking for increases and decreases, or maybe seasonal patterns. This is a guide to help you figure out what type of visualization to use to see that stuff. Let's start with the basics: the line graph.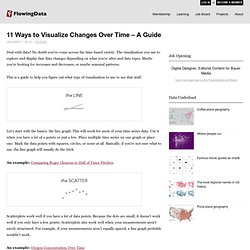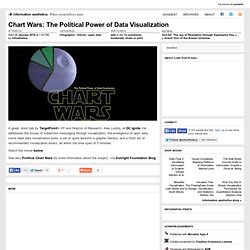 Chart Wars: The Political Power of Data Visualization - informat
A great, short talk by TargetPoint's VP and Director of Research, Alex Lundry, at DC Ignite. He addresses the issues of subjective messaging through visualization, the emergence of open data, some ideal data visualization tools, a set of quick lessons in graphic literacy, and a short list of recommended visualization books, all within the time span of 5 minutes. Watch the movie below.
Le phénomène de métropolisation entraîne de profonds changements au sein des territoires. Les nouvelles technologies constituent des analyseurs de ces mutations, dont ils sont à la fois des produits et des producteurs. Leur infusion dans le quotidien des territoires et des acteurs impose de profonds bouleversement dans l'organisation des territoires, les mobilités, et les champs mêmes de l'action publique. En parallèle du travail d'expérimentation développé dans le cadre du projet Ludigo, le Hub développe ici un chantier de réflexion, pour interroger la manière dont ces nouveaux médias contribuent à l'émergence de nouvelles dynamiques au sein des territoires contemporains, qu'ils soient administratifs, sociaux, économiques, politiques, ou culturels.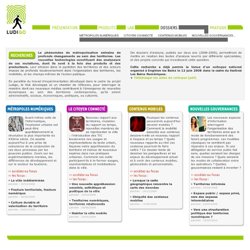 dossiers - Lorsque la carte géographique rencontre la carte des
Une société de la requête (2/4) : Comprendre la nouvelle économi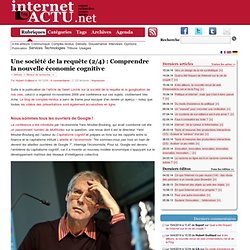 Par Hubert Guillaud le 16/12/09 | 4 commentaires | 2,122 lectures | Impression Suite à la publication de l'article de Geert Lovink sur la société de la requête et la googlisation de nos vies, celui-ci a organisé mi-novembre 2009 une conférence sur ces sujets, visiblement très riche. Le blog de comptes-rendus a servi de trame pour essayer d'en rendre un aperçu – notez que toutes les vidéos des présentations sont également accessibles en ligne.
It was a huge year for data. There's no denying it. Data is about to explode. Applications sprung up left and right that help you understand your data - your Web traffic, your finances, and your life. There are now online marketplaces that sell data as files or via API.
5 Best Data Visualization Projects of the Year – 2009 | FlowingD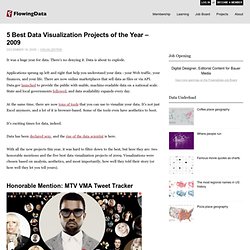 pChart is a PHP class oriented framework designed to create aliased charts. Most of todays chart libraries have a cost, our project is intended to be free. Data can be retrieved from SQL queries, CSV files, or manually provided. This project is still under development and new features or fix are made every week.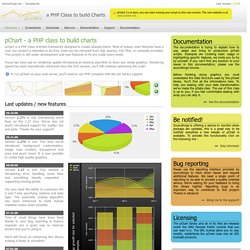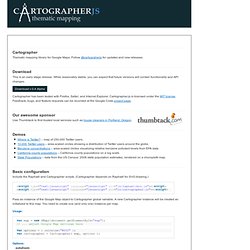 Cartographer Thematic mapping library for Google Maps. Follow @cartograherjs for updates and new releases. Download This is an early stage release.
Cartographer.js – thematic mapping for Google Maps
Best of FlowingData: November 2009 | FlowingData
November was another good month. We passed the 25k-subscriber mark for the first time, which to be honest, kind of freaks me out when I think about it, but at the same time it's of course really cool. Thanks all for spreading the word, and continuing to tweet, email, and bookmark. A big thanks to those who leave comments on FlowingData too. Your contribution makes this place that much better. In case you missed them, here are the top posts from November based on a combination of pageviews, comments, and links.
Interaction Design/User Experience » Blog Archive
I recently met Anu Määttä, a developer from Finland, who was able to connect me with Smári McCarthy(Iceland) and Petri Kola(Finland) who were able to report of projects, companies and intiatives from Iceland and Finland working with government data. Finland: Finnish Data Catalog (their data.gov) "Finnish public institutions are unprepared for making real APIs for their data.
How to Open your Data
How to Open your Data
By Joshua Tauberer (http://razor.occams.info), who runs the congressional transparency website www.GovTrack.us. Thanks to Gunnar Hellekson (RedHat, Inc.) for help with the initial version, and to all others who provided feedback. Originally published May 19, 2009.
Open Data is Civic Capital: Best Practices for "Open Govern
Comprehensive Knowledge Archive Network - Tags - eutransparency
Health and wealth for all countries. Excellent for print (PDF). Use Gapminder World to teach global development from 1800 until today. Stimulates understanding of the world through statistics. A good starting point for teaching global development.
15 Beautiful Examples Of Infographics For Your Inspiration | Web
Today I have compiled a showcase of 15 Beautiful Examples Of Infographics For Your Inspiration. Infographics are basically a graphical representation of data. In other words, a fun graph. Here are 15 of the best ones I could find. These are truly inspirational. What infographic do you like the best?
New Hans Rosling video, using GapMinder (Must see!)
Chris Jordan's TEDTalk 2008 - Visualizing Our World [video]
Linked, open, semantic? « paul walk's weblog
Interesting, Easy, Beautiful, True? | Information Is Beautiful
The Visual Miscellaneum | Information Is Beautiful