Journalisme
Get a demo of a Bloomberg terminal. You'll be is blown away by the depth of available data. Thousands of statistics, historical tables, sources… Everything is available through the proprietary terminal. Bloomberg started by offering a real-time news flow dedicated to the needs of the financial community, traders, analysts, etc.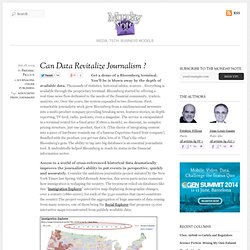 Can Data Revitalize Journalism ?
Context is King
I'm at Day 2 of a remarkable two-day conference that is bringing nonprofits, citizen journalism and social media together in ways I've never seen before. I'm jazzed, hopeful and intrigued by the challenges ahead. The passion in the room is palpable. The 40 people who convened at the Visioning Summit yesterday in San Francisco, and the 30 participants who are steering the program today, consist of some of the most talented and forward-thinking innovators — nonprofit execs, strategists, journalists — that I've come across in recent years. Above is the presentation I gave at this gathering, organized by a group of nonprofits in a project called the New Media Lab (there's no public presence yet, just a private wiki).
MediaShift Idea Lab . The New Journalist in the Age of Social Me
Responsable des « projets d'anticipation » au pôle Télécoms et Médias de Sofrecom (filiale R&D de France Telecom), Valérie Peugeot passe ses journées à tenter d'imaginer le futur : medias sociaux, internet des objets, biens communs du web, etc. Une sorte d'Aldous Huxley moderne… dont les romans ne seraient pas de la fiction. Valérie intervenait jeudi 28 janvier à la Cantine sur le thème « Web des données, données ouvertes » .
Eldorado du journalisme