Responsive webdesign
Image. Grilles. Showcase. Media_queries. Formulaires. Grilles. Jquery/js. Infos/articles. Responsive google maps | Bloggink. Responsive google maps Remember the days we used to put a static image of a roadmap on a website, usually accompanied by silly directions in case you came from the North, South or Mars?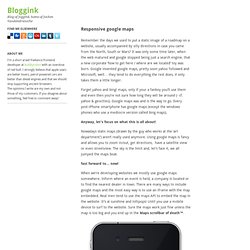 It was only some time later, when the web matured and google stopped being just a search engine, that a new corporate 'how to get here / where are we located' toy was born.
Multi-Device Layout Patterns. Through fluid grids and media query adjustments, responsive design enables Web page layouts to adapt to a variety of screen sizes.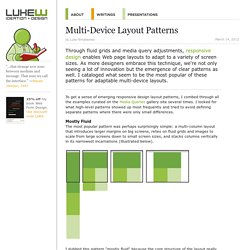 As more designers embrace this technique, we're not only seeing a lot of innovation but the emergence of clear patterns as well. I cataloged what seem to be the most popular of these patterns for adaptable multi-device layouts. To get a sense of emerging responsive design layout patterns, I combed through all the examples curated on the Media Queries gallery site several times. I looked for what high-level patterns showed up most frequently and tried to avoid defining separate patterns where there were only small differences. Reverie: Versatile HTML5 WordPress Framework | ThemeFortress: WordPress Themes and Plugins. Based on Foundation Reverie Framework is based on ZURB's Foundation, one of the most advanced responsive front-end framework in the world.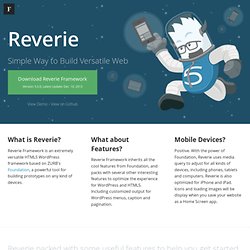 Reverie integrates firmly with Foundation with custom features. You can make easy upgrade to a newer Foundation through Compass. Responsive IMGs — Part 1 « Cloud Four. In my post "Where are the Mobile First Responsive Web Designs", I noted that one of the first things I look for when trying to determine whether or not a responsive web design is "mobile first" is whether or not it has a strategy for handling the IMG tag.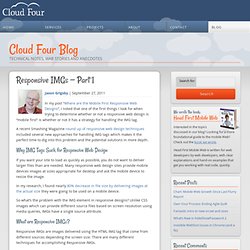 A recent Smashing Magazine round up of responsive web design techniques included several new approaches for handling IMG tags which makes it the perfect time to dig into this problem and the potential solutions in more depth. Why IMG Tags Suck for Responsive Web Design If you want your site to load as quickly as possible, you do not want to deliver larger files than are needed.
---