Outils
Je sais que beaucoup d'entre vous s'impatientent.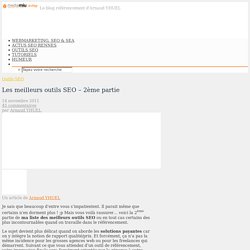 Website Value, SEO, Backlinks and Content Analyzer | GetMySite.Info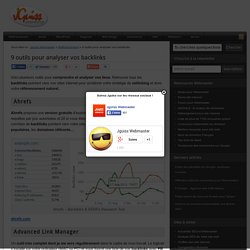 Voici plusieurs outils pour comprendre et analyser vos liens.
Analyser les backlinks : 8 outils pour voir les liens vers votre site internet
Classement google yahoo bing
Pandarol, Pandaronal, Pandaranol… on ne sait pas trop de quoi il s'agit, mais parait-il que ça envoie du lourd en ce moment même.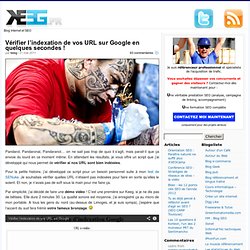 Vérifier l'indexation de vos URL sur Google en quelques secondes !
Explore the MozBar MozBar lets you: Access important SEO metrics at a glance as you surf the Web. Create custom searches by search engine, country, region/city.