Developpement mobile
Je profite d'une petite découverte pour blogger un peu (je suis à fond sur le développement de ma première webapp full HTML qui donne de très bons résultats, j'espère pouvoir plus en parler bientôt sur ce blog). Les applications sous forme de site web tournant dans le navigateur (alias webapp) occupent une place réduite, à cause de la place prise par l'interface du navigateur elle-même (barre d'adresse, signets, …). Sous iOS, on peut faire mieux en ajoutant l'application à l'écran d'accueil. Dans ce mode « standalone » (repéré par window.navigator.standalone), seule le header principal de l'iDevice (avec heure, batterie, signal, …) apparaît, ce qui laisse toute la place à l'application. Pour cela, il faut tout de même placer un meta-tag dans le head de sa page: Bref, vous savez déjà que cela est possible mais peut-être que vos utilisateurs ne le savent pas.
Drop-in « Add to home » pour inviter les utilisateurs de webapp iOS à ajouter à l'écran d'accueil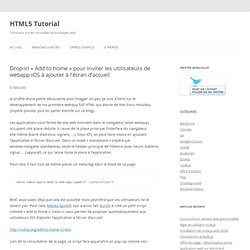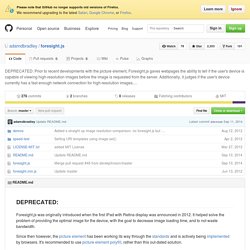 adamdbradley/foresight.js
README.md Introduction Foresight.js gives webpages the ability to tell if the user's device is capable of viewing high-resolution images (such as the 3rd generation iPad) before the image has been requested from the server. Additionally, it judges if the user's device currently has a fast enough network connection for high-resolution images. Depending on device display and network connectivity, foresight.js will request the appropriate image for the webpage.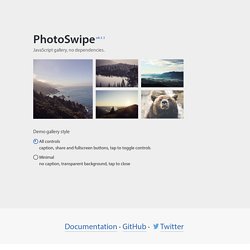 Watch the video iPhone, iPad, Android, Blackberry 6 and Desktop all supported. What is it?