Animations-transitions
Page Transitions with CSS3. In the last few years, we've seen a lot of single page websites lying around the internet, most of them using JavaScript for some transitions effect.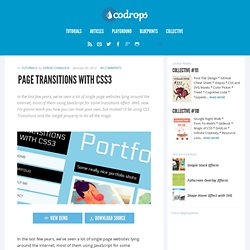 Well, now I'm gonna teach you how you can have your own, but instead I'll be using CSS Transitions and the :target property to do all the magic. View demo Download source In the last few years, we've seen a lot of single page websites lying around the internet, most of them using JavaScript for some transitions effect. Original Hover Effects with CSS3.
The power of CSS3 is enormous and in this tutorial we will see how to exploit it in a very creative way.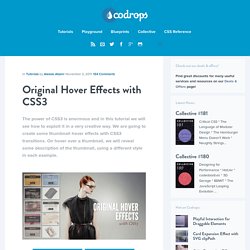 We are going to create some thumbnail hover effects with CSS3 transitions. On hover over a thumbnail, we will reveal some description of the thumbnail, using a different style in each example. View demo Download source. CSS3 Hover Effects. Hello guys, this time I will show you other five examples of hover effects using different CSS properties compared to the old tutorial posted on Codrops.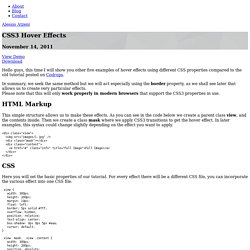 In summary, we seek the same method but we will act especially using the border property, as we shall see later that allows us to create very particular effects. Please note that this will only work properly in modern browsers that support the CSS3 properties in use. HTML Markup This simple structure allows us to make these effects. As you can see in the code below we create a parent class view, and the contents inside. Animated Buttons using CSS3 Transitions and Transforms | Webdesign code. CSS3 In Transition. Uncharted Territory With the addition of the CSS3 transition property comes a lot of uncharted territory.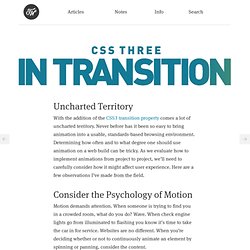 Never before has it been so easy to bring animation into a usable, standards-based browsing environment. Determining how often and to what degree one should use animation on a web build can be tricky. As we evaluate how to implement animations from project to project, we'll need to carefully consider how it might affect user experience. Animate.css - a bunch of plug-and-play CSS animations.
---