Patterns
Design Patterns
Martin Fowler 14 July 2011 domain driven design · application architecture · API design tags: CQRS stands for Command Query Responsibility Segregation . It's a pattern that I first heard described by Greg Young .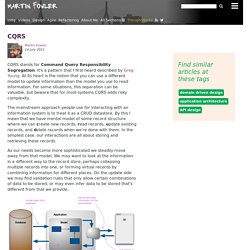 http://www.axonframework.org/docs/1.4/architecture-overview.html
Dans le billet CQRS l'architecture aux deux visages (partie 1) , nous vous avions présenté les bases d'une architecture CQRS. En effet une application combine des fonctionnalités de consultation d'une part (Read) et traitement métier d'autre part (Write).
CQRS (partie 2)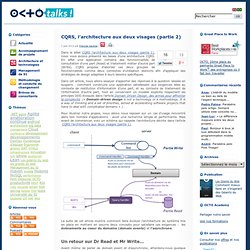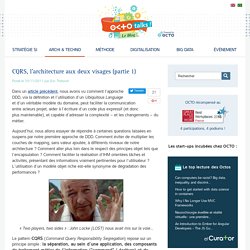 CQRS (partie 1)
Dans un article précédent, nous avons vu comment l'approche DDD, via la définition et l'utilisation d'un Ubiquitous Language et d'un véritable modèle du domaine, peut faciliter la communication entre acteurs projet, aider à l'écriture d'un code plus expressif (et donc plus maintenable), et capable d'adresser la complexité – et les changements – du métier. Aujourd'hui, nous allons essayer de répondre à certaines questions laissées en suspens par notre première approche de DDD. Comment éviter de multiplier les couches de mapping, sans valeur ajoutée, à différents niveaux de notre architecture ? Comment aller plus loin dans le respect des principes objet tels que l'encapsulation ?
I saw the talks of Greg Young about CQRS & especially "Event Sourcing" a couple of times and each time, I really really tell myself this pattern is just "génial" (the way we say it in french) even if Martin Fowler wrote about it in 2005 and deals in details with implementation concerns and issues (especially in the cases of integration with external systems). Event Sourcing : stop thinking of your datas as a stock but rather as a list of events… When you look at your database, you look at a stock. For instance, you have X millions of clients, each of them have personal datas like maiden name or address.
Event Sourcing & noSQL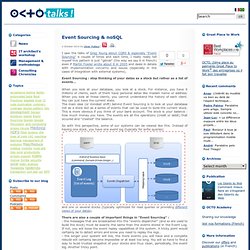 0909.1788
Aliaksei Papou explores how components and design patterns such as the observer and State Machine make it possible to design an application such that it can grow and change according to your needs. Jian Zhong and Eric Cole present the infrastructure virtualization, SOA and Agile development methodology used by the US National Institutes of Health (NIH). In this article, author Jim Hirschauer justifies the importance of application performance management (APM) process in organizations. He also describes a maturity model for APM. Jim Hirschauer Mar 22, 2013 , Mike Griffiths shares his journey on the creation of DSDM through to his more recent work with the PMI around the Agile Community of Practice and the PMBOK v5 Guide and Software Extension.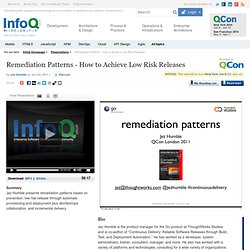 Remediation Patterns
Enterprise Integration Patterns