Architecture
CAP Twelve Years Later: How the "Rules" Have Changed. This article first appeared in Computer magazine and is brought to you by InfoQ & IEEE Computer Society.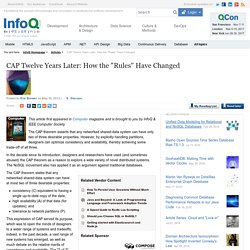 The CAP theorem asserts that any net­worked shared-data system can have only two of three desirable properties. How­ever, by explicitly handling partitions, designers can optimize consistency and availability, thereby achieving some trade-off of all three. In the decade since its introduction, designers and researchers have used (and sometimes abused) the CAP theorem as a reason to explore a wide variety of novel distributed systems. The NoSQL movement also has applied it as an argument against traditional databases.
Web Performance
*nux. The Frustrated Architect. Bio Simon Brown is an independent consultant based in Jersey, the founder of Coding the Architecture and either a software architect who codes or a software developer who understands architecture.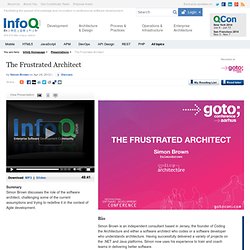 Having successfully delivered a variety of projects on the .NET and Java platforms, Simon now uses his experience to train and coach teams in delivering better software. GOTO Aarhus is the enterprise software development conference designed for team leads, architects, and project management and is organized by developers, for developers. As software developers and architects ourselves, we wanted to craft the ultimate conference. The result is a high quality conference experience where a tremendous amount of attention and investment has gone into having the best content on the most important topics presented by the leaders in our community, staged in an intimate environment needed to support as much learning and networking as possible. Getting Real. Breaking the Monolith. Bio Stefan Tilkov is co-founder and principal consultant at innoQ.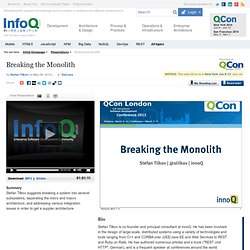 He has been involved in the design of large-scale, distributed systems using a variety of technologies and tools ranging from C++ and CORBA over J2EE/Java EE and Web Services to REST and Ruby on Rails. He has authored numerous articles and a book ("REST und HTTP", German), and is a frequent speaker at conferences around the world. Nothing Is Permanent Except Change - How Software Architects Can Embrace Change.
Bio Michael Stal is a Principal Engineer at Siemens Corporate Research & Technologies and Professor at University of Groningen.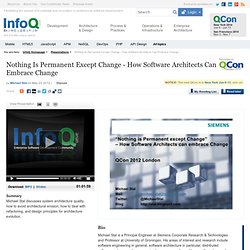 His areas of interest and research include software engineering in general, software architecture in particular, distributed software systems, and programming language paradigms. He co-authored a couple of books, among them the Pattern-Oriented Software Architecture series. Strategic positionning of transverse architecture cells. 97 Things Every Software Architect Should Know - The Book - Softarch 97Things.
Real-Time
BigData. CEP. CMDB. FullText. NodeJS. Database. Virtualization. Load Test. Patterns. Scalability. Feedbacks.
---