Grids
302 magazine grid system and layouts | Buamai. Five simple steps to designing grid systems – Part 2. – July 16th, 2005 – In part one of this Simple Steps series I talked about how to use a simple ratio, that of the paper size you are using, to create a symmetrical grid on which to create your designs.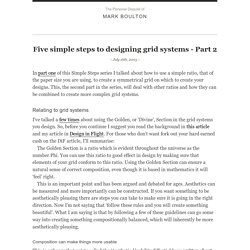 This, the second part in the series, will deal with other ratios and how they can be combined to create more complex grid systems. I've talked a few times about using the Golden, or 'Divine', Section in the grid systems you design. So, before you continue I suggest you read the background in this article and my article in Design in Flight. Thinking with Type | Contents. The Complex Grid « Whatype. 13/11/2009 – I've made a 2010 Calendar using the Complex Grid and I've explained it step by step.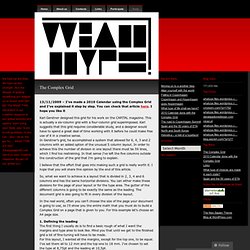 You can check that article here. I hope you like it. InDesign « Layers Magazine Layers Magazine. 15+ InDesign Tutorials for Magazine and Layout Design. Do you want to learn to how to design a magazine in InDesign?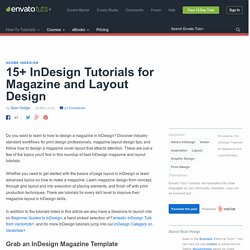 Discover industry standard workflows for print design professionals, magazine layout design tips, and follow how to design a magazine cover layout that attracts attention. These are just a few of the topics you'll find in this roundup of best InDesign magazine and layout tutorials. Whether you need to get started with the basics of page layout in InDesign or learn advanced topics on how to make a magazine.
Learn magazine design from concept, through grid layout and into execution of placing elements, and finish off with print production techniques. Grid System | Sad Bird Design. What is this?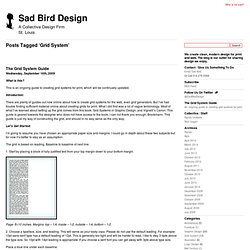 This is an ongoing guide to creating grid systems for print, which will be continually updated. Introduction: There are plenty of guides out now online about how to create grid systems for the web, even grid generators. But I've had trouble finding sufficient material online about creating grids for print. Designers Bookshop – Grid Calculator Pro Edition - Plug-in for Adobe InDesign. Experience Adobe InDesign ... on steroids!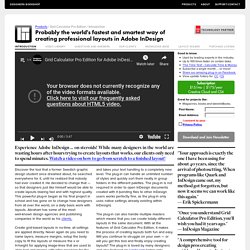 While many designers in the world are wasting hours after hours trying to create layout that works, our clients only need to spend minutes. Watch a video on how to go from scratch to finished layout! Discover the tool that a former Swedish graphic design student once dreamed about, he searched everywhere for it, until he realized that nobody had ever created it. He decided to change that — so that designers just like himself would be able to create layout blazing fast and with highest quality. PHOTOCOPA | Photo Color Palettes by COLOURlovers. Page Layout Design. Home > Design Tips > Page Layout Design In this tutorial, we'll explore the design phase of document creation.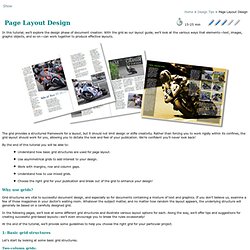 With the grid as our layout guide, we'll look at the various ways that elements—text, images, graphic objects, and so on—can work together to produce effective layouts. The grid provides a structured framework for a layout, but it should not limit design or stifle creativity. How to Create a Professional Magazine Layout. A few times a each month we revisit some of our reader's favorite posts from throughout the history of Vectortuts+.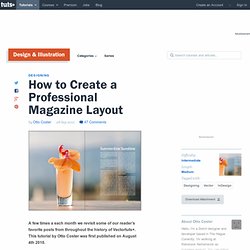 This tutorial by Otto Coster was first published on August 4th 2010. Have you ever wondered how professional designers strike the perfect balance between text and image? Using InDesign's powerful type tools, you will learn techniques to help you set and arrange a magazine layout. The Grid System.
---