US Recession
Lakshman Achuthan and Harm Bandholz say the recession will proba
ECRI | News | Media Coverage - Mozilla Firefox
Leading Probability of a US recession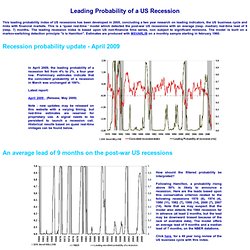 This leading probability index of US recessions has been developed in 2005, concluding a two year research on leading indicators, the US business cycle and links with financial markets.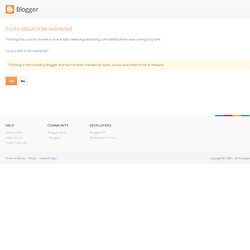 Asia: The Coming Fury
As goods pile up in wharves from Bangkok to Shanghai, and workers are laid off in record numbers, people in East Asia are beginning to realize they aren't only experiencing an economic downturn but living through the end of an era.
Forecasted GDP in the New Year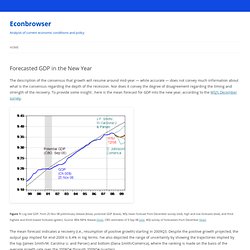 « The oil shock and recession of 2008: Part 2 | Main | December auto sales » January 04, 2009 Forecasted GDP in the New Year
« Estimated Impact of "American Recovery and Reinvestment Plan" | Main | International Imbalances: Measurement and Implications »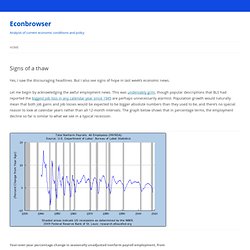 Signs of a thaw
by Bill McBride on 1/09/2009 02:47:00 PM
The Residential Rental Market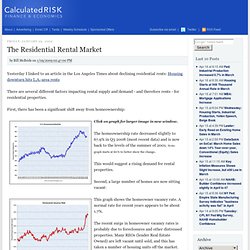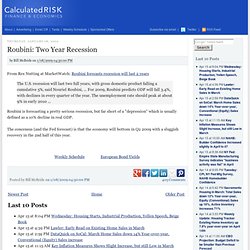 by Bill McBride on 1/08/2009 04:30:00 PM
Roubini: Two Year Recession
Nouriel Roubini is called Doctor Doom as a major "doomsayer" . He foresaw most of the key elements of the crisis. Yet, he was wrong in his scenario, expecting the dollar to tumble and long dated yields to blow up. Rather the contrary... So lucky Doctor Doom . by benobi Mar 1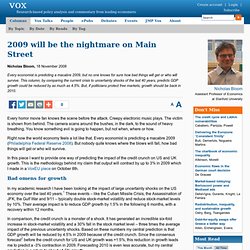 Every economist is predicting a macabre 2009, but no one knows for sure how bad things will get or who will survive. This column, by comparing the current crisis to uncertainty shocks of the last 40 years, predicts GDP growth could be reduced by as much as 4.5%. But, if politicians protect free markets, growth should be back in 2010. Every horror movie fan knows the scene before the attack. Creepy electronic music plays. The victim is shown from behind.
2009 will be the nightmare on Main Street | vox - Research-based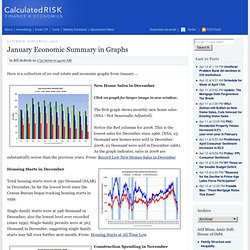 Here is a collection of 20 real estate and economic graphs from January ... New Home Sales in December
January Economic Summary in Graphs
Christina Romer Explains Stimulus Plan
Economic policy is based on a collection of half-truths. The nature of these half-truths changes occasionally. Economics as a scholarly discipline consists in the periodic rediscovery and refinement of old half-truths. Little progress has been made in the past century or so towards understanding how economic policy, rules, legislation and regulation influence economic fluctuations, financial stability, growth, poverty or inequality. We know that a few extreme approaches that have been tried yield lousy results – central planning, self-regulating financial markets – but we don't know much that is constructive beyond that. The main uses of economics as a scholarly discipline are therefore negative or destructive – pointing out that certain things don't make sense and won't deliver the promised results.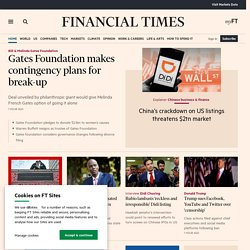 FT.com | Willem Buiter's Maverecon | Can the US economy afford a
A key source of the today's economic weakness is uncertainty that led firms to postpone investment and hiring decisions. This column, by the authors whose model forecast the recession as far back as June 2008, report that the key measures of uncertainty have dropped so rapidly that they believe growth will resume by mid-2009. This means any additional economic stimulus has to be enacted quickly. Delaying to the summer may mean the economic medicine is administered just as the patient is leave the hospital.
Good news at last? The recession will be over sooner than you th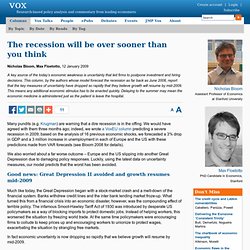 Assessments of European price stability risks outright reversed in recent months. 1 Until summer 2008, monetary policy was concerned with inflation pressures from surging commodity and energy prices. Last month, facing possible recession, the European Central Bank (ECB) cut interest rates by an unprecedented 75 basis points. Falling commodity prices and weak demand have eased inflation. All major economic organisations found forecasting growth and inflation difficult and uncertain in 2008.
Europe does not face deflation danger | vox - Research-based pol
"There's every risk of an overshoot" - Mozill
Because of the bloated monetary base there has been much concern recently about the supposed risk of future inflation. There are at least four important misconceptions associated with this issue, and I'll try to address all four in this post. The first misconception is that it will be difficult to pull the excess reserves back out of circulation after the economy recovers and interest rates rise to a more normal level. As Hall recently pointed out, if we continue to pay interest on reserves it would not be necessary to pull those reserves out of circulation in the future, just pay enough interest for banks to want to continue holding them. But for the moment let's assume that's not feasible.
Banerji: The End of the Recession | Investing | Financial Articl
This post appeared yesterday on RealMoney . Click here for a free trial, and enjoy incisive commentary all day, every day.
ECRI | News | Media Coverage
Last Tuesday, Ben Bernanke, the chairman of the Federal Reserve, predicted that 2010 "will be a year of recovery ." On Friday, Americans learned that the gross domestic product fell 6.2 percent in the last quarter of 2008, suggesting that the recession may be deeper than anticipated. So when, exactly, will the misery end?
unnamed
by Bill McBride on 1/09/2009 08:30:00 AM From the BLS : Nonfarm payroll employment declined sharply in December, and the unemployment rate rose from 6.8 to 7.2 percent, the Bureau of Labor Statistics of the U.S.
Employment Declines Sharply, Unemployment Rises
Over 8 Million Part Time Workers
Boeing to Cut 4,500 Jobs
Q4 Preliminary Release and Re-thinking That "Massiv
February Economic Summary in Graphs
Macro and Other Market Musings: Another Look at the Collapse of
A New Depression? The Lessons of the 1930s | Jeff Frankels Weblo
ECRI | News | Media Coverage - Mozilla Firefox
ECRI | News | Media Coverage - Mozilla Firefox
Roubini: End of Gloom?
ECRI | News | Media Coverage
Philly Fed: Manufacturing "contracted less seve
This shoot is definitely growing bigger and greener
Further progress for initial claims for unemploymen
Are We Turning Japanese?: The Balance Sheet: Online Only: The Ne
Will the credit crunch lead to recession? | vox - Research-based
Krugman Worries about L-Shaped Recession - Mozi