Facettes
Army case study - categorization.pdf (Objet application/pdf)
Guide pratique pour l'élaboration d'un thésaurus documentaire. M
This page is rather out of date and is not being actively maintained. It is retained here because some of the information is still valid, but users should check with suppliers of software packages for current information. We are discussing the transfer of this page to someone else who will maintain it, and when that happens a link to the new site will be given here. - Leonard Will. What is a thesaurus?
Software for building and editing thesauri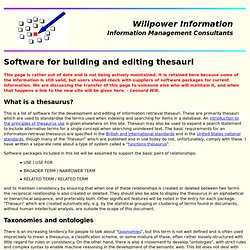 Logiciel de création et maintenance de thésaurus
I AM ∴ I BLOG
SExpand by Gina Trapani Click to viewYou're not going to spend another tax season scrounging around for receipts and digging through your filing cabinet for the remains of dead trees, wondering if you're claiming everything you should. No siree! Next year, all your tax documents - heck, all your important paperwork - will be converted to PDF files and organized into search-based folders. Your receipts, ebooks, scanned newspaper articles, tax forms, gadget manuals and client contracts will be available at your fingertips whether or not you're by your filing cabinet.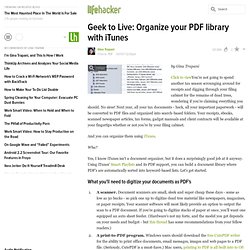 Geek to Live: Organize your PDF library with iTunes
Flamenco Home
Classification à facettes, une autre approche de l'organisation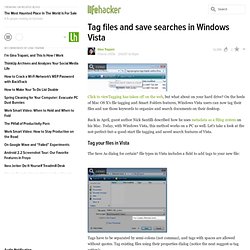 SExpand Click to viewTagging has taken off on the web, but what about on your hard drive? On the heels of Mac OS X's file tagging and Smart Folders features, Windows Vista users can now tag their files and use those keywords to organize and search documents on their desktop. Back in April, guest author Nick Santilli described how he uses metadata as a filing system on his Mac. Today, with Windows Vista, this method works on a PC as well.
Tag files and save searches in Windows Vista
Metadata as a 'filing system'
by Nick Santilli I'm not the most organized person around, but when it comes to my computer I'm set in my ways of folders within folders within folders. I'd bet you're much the same way.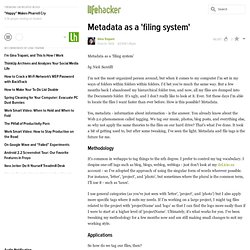 Retention Schedules -- Multnomah county oregon