SmartPhones
Parsing - Get and Parse CSV file in android. Yahoo data download. Thanks to M.Kishinevsky and M.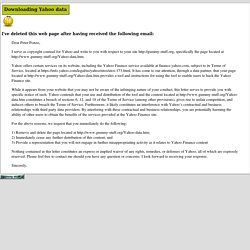 Higgs Here's a neat way to download stock data from Yahoo, perhaps into a spreadsheet (so you can play with the data):
FRENCH Automated License Management and Verification System - We. Apple. Mindmapping. The Truth about Mobile Application Stores. At the recent Mobile World Congress 2010, Dutch app store analytics firm Distimo presented their findings on the six largest mobile application stores in existence today: the iTunes App Store, BlackBerry App World, Google Android Market, Nokia Ovi Store, Palm App Catalog and Windows Marketplace for Mobile.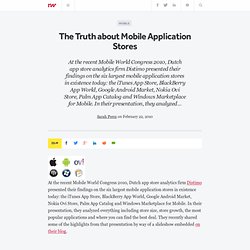 In their presentation, they analyzed everything including store size, store growth, the most popular applications and where you can find the best deal. They recently shared some of the highlights from that presentation by way of a slideshow embedded on their blog. For mobile industry insiders, some of the findings won't be all that shocking, just common knowledge paired with statistics. However, there were a few surprises that caught us off guard, maybe they will you too.
Distimo collects public application data from app stores and also offers developers an analytics tool which is used to monitor their apps and those belonging to their competitors. Doper diffusion appli iPhone. Pour prendre position sur l'iPhone, la RATP a lancé en mai 2009 une application dédiée au smartphone d'Apple.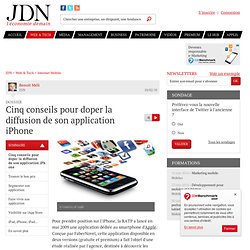 Conçue par FaberNovel, cette application disponible en deux versions (gratuite et premium) a fait l'objet d'une étude réalisée par l'agence, destinée à découvrir les facteurs de succès d'une application entre dosage du prix, optimisation du service et communication. Voici quelques-uns des enseignements de cette étude. A Bloodbath for 2010: the Smartphon. The big battle this year in mobile will be in smartphones.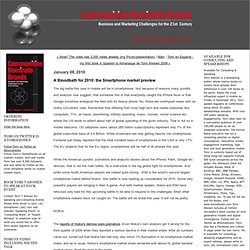 Not because of reasons many pundits and analysts now suggest, that somehow this is that everybody caught the iPhone fever or that Google somehow energized the field with its Nexus phone. No, those are overhyped views with an overly US-centric view. Remember that differing from most high tech and media industries like computers, TVs, air travel, advertising, military spending, music, movies, rocket science etc, where the US tends to reflect about half of global spending of the given industry. That is not so in mobile telecoms.
---