Web sources
A New Year's Evolution. - Family Woodworking. SoloWoodworker - Woodworking and other individual craft business. Woodworking Website | Welcome to Your Online Workshop! Rough Cut Woodworking with Tommy Mac and the 207 Woodworking Community - Thomas J. MacDonald. Woodworking Videos, Articles, View Projects and Shop Tours | The Wood Whisperer. PBS: American Woodshop. Dovetails on the Bandsaw, Scrollsaw and Router Table. Dovetails on the bandsaw 4 Oct 2010 Summary: This is my method for cutting regular and symmetric dovetails using the bandsaw, scroll saw and router table.
The bandsaw is used to cut kerfs for the pins and tail for a perfect fit. The scroll saw is used to quickly remove most of the waste and router table is used to remove the remaining waste and fine-tune the depth of pins and tails. There is a tiny amount of manual cleanup on the tails - probably not enough to call them hand-cut, though. You could, of course, remove the waste manually with a mallet and chisel instead of using the scroll saw...or use a coping saw or bandsaw. Using the router table to trim the final depth of pins and tails is both quick and accurate, but it also imposes a minimum spacing between adjacent pins and tails of 1/2" (the width of the bit). Ebenisterie index. 'Design. Click. Build' Blog. Sort By: From Dovetails to Mortise & Tenon Killenwood, member | April 13th, 2014 This model was made by a friend, David Heim.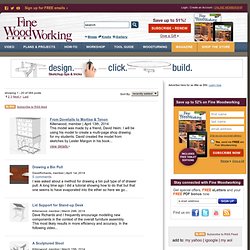 I will be using his model to create a multi-page shop drawing for my students. Double Twisted Dovetail Joint Template Generator Online Free. Metric and English. Printing Tips: If your printed template is not to scale, or does not fit correctly on the page, it may be fixable via printer settings.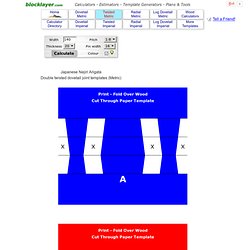 When you select 'Print' from your browsers File Menu, a dialog should appear with options and preferences for printing. Your printer should have settings for print scale, margins and page orientation (Landscape or Portrait). Chantournage. <A HREF=" mesure d'audience, statistiques, ROI<BR><A HREF=" des meilleurs sites</A> et positionnement Chantournage soyez les Bienvenu(e)s dans mon nouvel atelier !!!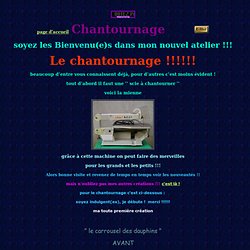 Le chantournage !!!!!! Beaucoup d'entre vous connaissent déjà, pour d'autres c'est moins évident ! Woodworking for engineers. Woodworkers Resource.
---