LOGO DESIGN
25 Inspiring Logos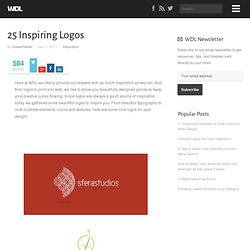 Here at WDL we like to provide our readers with as much inspiration as we can. And from logos to print and web, we like to show you beautifully designed pieces to keep your creative juices flowing. Since logos are always a good source of inspiration, today we gathered some beautiful logos to inspire you.
Logo design community and inspiration gallery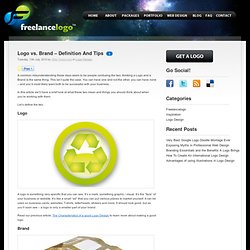 Logo vs. Brand - Definition And Tips
A common misunderstanding these days seem to be people confusing the two, thinking a Logo and a Brand is the same thing. This isn't quite the case. You can have one and not the other, you can have none – and you'd most likely want both to be successful with your business.
Opinion BY Armin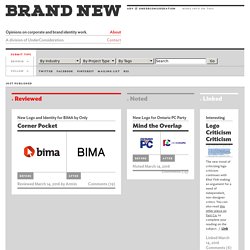 One of the biggest uses of Illustrator has always been and most probably always will be logo design.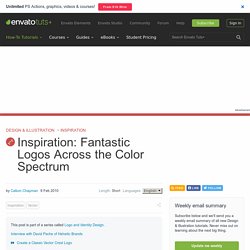 Inspiration: Fantastic Logos Across the Color Spectrum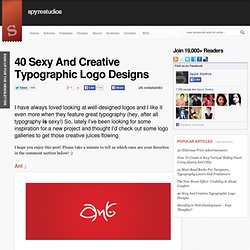 I have always loved looking at well-designed logos and I like it even more when they feature great typography (hey, after all typography is sexy!) So, lately I've been looking for some inspiration for a new project and thought I'd check out some logo galleries to get those creative juices flowing.
50 Creative Logo Design Inspirations #9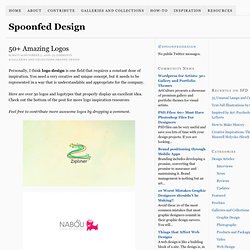 50+ Amazing Logos
Personally, I think logo design is one field that requires a constant dose of inspiration.
jQuery JavaScript Framework has fast become an indispensable part of web 2.0 formation and will continue to be used heavily in websites and projects. As the search for entertaining visual effects continues, the performance and speed of a site should not be compromised. Now with jQuery, it's possible to integrate captivating visual effects together with highly effective functions.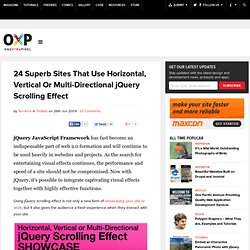 24 Superb Sites That Use Horizontal, Vertical Or Multi-Directional jQuery Scrolling Effect | Onextrapixel - Showcasing Web Treats Without A Hitch