Situation analysis
Automobile Industry In India,Indian Automobile Industry,Indian Auto Industry. In India there are 100 people per vehicle, while this figure is 82 in China.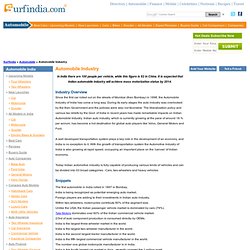 It is expected that Indian automobile industry will achieve mass motorization status by 2014. Industry Overview Since the first car rolled out on the streets of Mumbai (then Bombay) in 1898, the Automobile Industry of India has come a long way. During its early stages the auto industry was overlooked by the then Government and the policies were also not favorable. The liberalization policy and various tax reliefs by the Govt. of India in recent years has made remarkable impacts on Indian Automobile Industry.
Competition for Tata's Nano? Production Statistics.
---