Fun
Francais GoogDance. Un perroquet danse sur Backstreet Boys - une vidéo. Indonesian baby on 40 cigarettes a day - Big-Boss-Smoker - TWO Y. Cancellara... avec un moteur ? - Fabien Cancellarra, Vélo, Moteu. On connaissait le dopage médical, existe-t-il aussi un dopage mécanique ?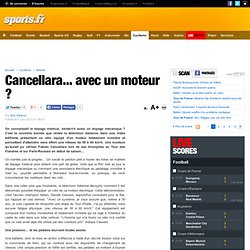 C'est la nouvelle bombe que révèle la télévision italienne dans une vidéo édifiante présentant un vélo équipé d'un moteur totalement invisible et permettant d'atteindre sans effort une vitesse de 50 à 60 km/h. Une monture qu'aurait pu utiliser Fabian Cancellara lors de ses triomphes au Tour des Flandres et sur Paris-Roubaix en début de saison... On n'arrête pas le progrès... On savait le peloton prêt à toutes les folies en matière de dopage médical pour obtenir une part de gloire. The Google Job - Gizmodo.
The IT Crowd - Piracy Ad. Failblog's Channel. HIKAKIN's Channel.
---