Agences
TAN Expeditions |: Ice Cap Crossings. Antarctica Flights & Guided Adventures | Adventure Network International. Ski South Pole All the Way - 50 Degrees North. Welcome to Polar Sea Adventures. We are pleased to offer one of the most unique and exciting skiing expeditions anywhere in the world.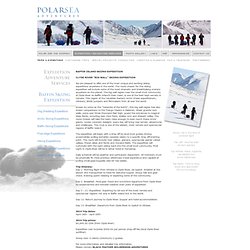 The route chosen for this skiing expedition will include some of the most dramatic and breathtaking scenery anywhere on the planet. The big wall region near the small Inuit community of Clyde River on Baffin Island's East coast, is one of the best kept secrets in Canada. This region of the Canadian Eastern Arctic draws expeditioners, climbers, BASE jumpers and filmmakers from all over the world. Known by some as the "Yosemite of the North", this big wall region has also drawn comparisons to the Trango Towers in Pakistan. Sheer granite rock walls, some over three thousand feet high, guard the entrances to magical deep fiords, including Sam Ford Fiord, Walker Arm and Stewart Valley.
Trek, trekking, randonnée pédestre, voyage aventure : le voyage à pied avec Terres d´Aventure. Haute montagne, alpinisme, voyage ascension, trek - Terres d'Aventure, La randonnée en montagne.
---