top priority
Get flash to fully experience Pearltrees
在第一篇我們弄好了一個 OpenGL ES 框架, 接下來我們可以再進一步為寫遊戲作準備了, 這時, 我們有一個問題要好好考慮一下: 到底我們想以 Obj-C 開發還是以 C/C++ 開發呢? 個人來說, 我還是比較偏向 C/C++, 一來比較熟, 二來要是借用別人遊戲方面的代碼, 也比較容易找到! 所以在本篇, 我會和大家介紹一下怎麼混合 C/C++ 和 Obj-C, 並編寫一個 C++ 的 sprite class, 方便以後在遊戲里應用! 我們首先要做的第一件事, 是打開第一篇的示範工程,並把檔案的點綴名由 .m 改為 .mm, 這樣, 我們就可以在代碼里, 隨意引用 C++ 的 class了.
我们平时在开发应用的时候,经常会用到 NSLog 来调试我们的程序,而随着项目越来越大,这些用于调试的日志输出就会变得很难管理。 发布正式版的时候一定要屏蔽掉所有后台输出,因为这些输出还是比较消耗系统资源的。 往往到了这个时候,我们不得不去一行一行的找到 NSLog 调用,然后注释掉。 这样做在项目小的时候还比较有效,但随着项目规模的增长,就会变得越来越难控制。 下面就给大家介绍一个简单的方法,让我们在生成 Release 版本时不需要进行任何更改即可屏蔽所有的 Log 输出。 首先我们先要定义这样一段预处理命令,文件名随便起,例如 CLog.h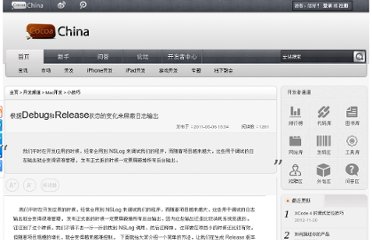 Computing cryptographic hashes of files on iOS and Mac OS X using the CommonCrypto APIs is fairly easy, but doing it in a way that minimizes memory consumption even with large files can be a little more difficult… The other day, I was reading what some people were saying about this on a forum about iPhone development , and they thought they found the trick, but they still had a growing memory footprint with large files because they forgot something fundamental about memory management in Cocoa. Updated Friday, October 1, 2010: removed comment about the fact that I used character arrays on the heap with the more modular solution described at the end of the post; this is now fixed , and that more general solution is now as efficient as the simple one described here. Sunday, October 17, 2010: added link to a simple GitHub repository that I created to show exactly how to integrate my function FileMD5HashCreateWithPath with a simple iOS or Mac application.
The Color Wizard is a color matching application for anyone who wants to create designs with great looking colors. The color wizard lets you submit your own base color, and it automatically returns matching colors for the one you selected. It returns a set of hue, saturation and tint/shade variations of your color, as well as suggests color schemets to you, based on your color's complementary color, split complementary colors, analogous colors and other variations. The color wizard also has a randomize function that lets you generate color schemes you might not have thought of on your own. The first version of the Color Wizard was completed back in 2000 as an ASP application.
當你的職業或興趣跟軟體設計或網站設計有關,就會碰觸到一些資訊專業書籍。在您閱讀過的所有書籍中,哪一本你覺得對你的影響最大?如果要你只能選一本來推薦給其他的程式設計師,你又會選擇哪一本?