VFX & sound
PIXELS OLD SCHOOL - AMAZING RENDER. 60+ Creative Photoshop Text Effect Tutorials | Web Design Blog, Web Designer... The use of text effect is a very crucial aspect of designing no matter what you are designing a logo or a banner.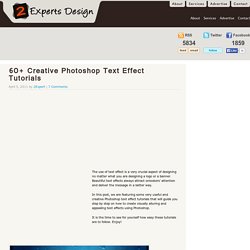 Beautiful text effects always attract onlookers' attention and deliver the message in a better way. In this post, we are featuring some very useful and creative Photoshop text effect tutorials that will guide you step by step on how to create visually alluring and appealing text effects using Photoshop. It is the time to see for yourself how easy these tutorials are to follow. Enjoy! Smooth Glass Type.
Most Popular Sound FX. Cartelle | Interactive Studio. Download Sound Effects Free - Soundboard Grid to Play Sound FX Instantly.
---