WindowsUnattendedCD
Pack de mises à jour Windows XP pre sp3 _ Prenez le!
Légendes WU accès = nécessaire pour acceder à Windows Update sans interaction WU Prioritaires = Mises à jour installées automatiquement par Windows Update ( choisir le mode "personalisée" pour avoir le choix.)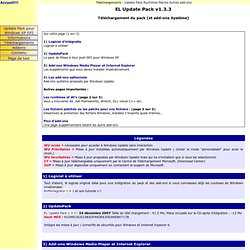 Index of -cxp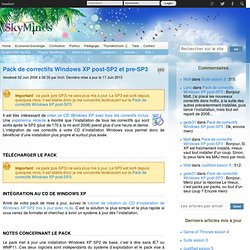 Pack de correctifs Windows XP post-SP2 et pre-SP3 .______. le blog de SkyMinds
Il est très intéressant de créer un CD Windows XP avec tous les correctifs inclus .
Addons for nLite
DriverPacks.net Portal News
Xable's Light Windows XP Post-SP2 Update Pack
Unattended Windows Introduction Submitted by Alanoll Welcome to Unattended Windows Guide! Have you ever wanted a Windows CD that would install Windows by automatically putting in your name, product key, timezone and regional settings? And have it merged with the latest Service Pack to save time? Followed by silently installing all your favorite applications along with DirectX 9.0c, .Net Framework 1.1 and then all the required hotfixes, updated drivers, tweaks, and a readily patched UXTheme without any user interaction whatsoever?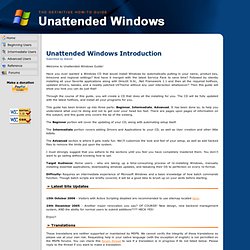 s Unattended Windows - Unattended Windows Introduction
AutoPatcher.com
Site de CréateurXP
Forums - Unattended Windows 2000-XP-2003
Forums - Windows Post-Install Wizard (WPI)
The following is a complete list of all critical HotFixes (patches) along with download link and switches examples for: - Windows 2000 Professional with Service Pack 4 - Windows XP Professional with Service Pack 3 - Windows XP Professional with Service Pack 2 - Windows 2003 Server with Service Pack 2 August 15, 2008 **A million apologies about the LOOOOONG delay.
HOTFIXES- Win2000 SP4 and WinXP SP2 - MSFN Forums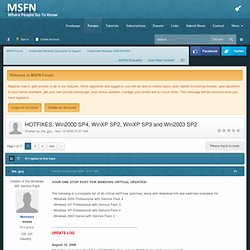 Developed by June Soft, Blank – Journal, Note is an app which helps people to constantly keep tabs on what they are thinking (Like we don't have many of that already in the market). If Evernote is not exactly your cup of coffee and if you aren't expecting anything exquisite, then Blank – Journal, Note might be a really good option. The first thing that you would tend to notice about Blank is its woody background and well-textured notebooks which gives it a very different outlook.
Unattended-News
HFSLIP - Slipstream XP and 2003 Hotfixes
Unattended Windows Website - http-www.win-web.be-
XP Coccinelle - Index
Home of XPero - XPize homepage
Official RVM Integrator website - News
Windows Post-Install Wizard Home
Windows Updates Downloader
Accueil
Forums - AutoPatcher 2000-XP-2003
Discussion Board - View Forum - French Update Pack