Belissimo33's utilities
Product reviews and prices, software downloads, and tech news - CNET. Memori.qip.ru - социальные закладки на память.
Comp maintenance. Windows, приложения Office, программы, браузер, антивирус. Peter's Online Typing Course - Online Typing Lessons for Everyone! Online Word Processor - Zoho Writer.
Cost-Effective You don't have to install or maintain hardware and software and reasonably priced subscription plans lead to more cost savings.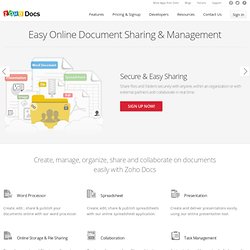 Anytime Anywhere Access Being a web-based document management solution you can take all your documents with you wherever you go with access to them anytime, anywhere. Reduced IT burden Scalability, security, reliability or software upgrades, we have them all covered, so you can focus on enhancing business productivity. Enhanced business continuity Storing your files online keeps all your valuable data safe from various threats and calamities and ensures the normal functioning of your business is not affected.
---