Home & Design
The Psychology of Color [Infographic] | Louisville Painters. 20 Ways to Use Color Psychology in Your Home. When you approach home design, you likely do so in a couple of different ways – choosing objects and colors that simply look attractive or using an existing pattern or decor theme to govern your decisions.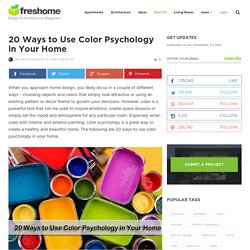 However, color is a powerful tool that can be used to inspire emotions, create space illusions or simply set the mood and atmosphere for any particular room. Especially when used with interior and exterior painting, color psychology is a great way to create a healthy and beautiful home. The following are 20 ways to use color psychology in your home. 1.) 25 Cool Ideas To Display Family Photos On Your Walls. We've already showed you a bunch of cool ideas showing how you can hang your photos and art in creative ways.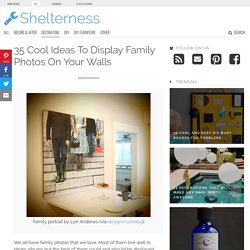 Now we're going to be more specific and show how you can organize family photos on your walls. In this gallery you'll find more than enough inspiration to make your own family photo display. Photos on walls are always great because they bring up memories and make these walls less boring so don't hesitate to try that out. Psychology of Color « Miss Centsible. Organizing: Organized Kitchens - Martha Stewart. Organizing: 25 Bathroom Organizers - Martha Stewart. Decorating 101. Find storage space you never knew you had. ALBA - Tendencias de Colores 2012. Color Combinations, Monochromatic, Complementary, Analogous, Triad. Color Worqx Color combinations may pass unnoticed when pleasing, yet offend dramatically when compositions seem to clash.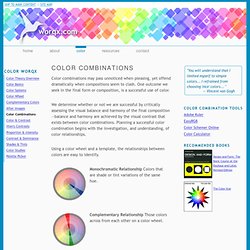 One outcome we seek in the final form or composition, is a successful use of color. We determine whether or not we are successful by critically assessing the visual balance and harmony of the final composition—balance and harmony are achieved by the visual contrast that exists between color combinations. DIY advice. Topic Select topic...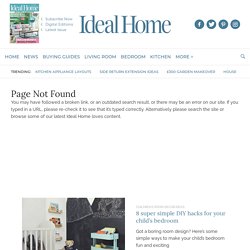 Decorating. Find storage space you never knew you had.
---