Convocatorias_concursos
Innovar para Bien : Agenda
World Tech Jam - Stay tuned for Jam
OMI - Convocatoria
Descargar el poster 2014 (JPG)
El objeto de esta información busca dar a conocer diferentes convocatorias nacionales e internacionales generadas fuera de nuestra jurisdicción, capaces de ayudar a la gestión de todos aquellos quienes buscan apoyo en sus proyectos particulares.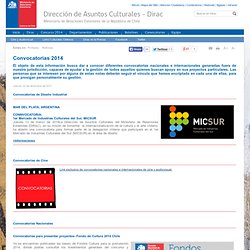 DIRAC - Convocatorias 2012
Bases del Premio | Premio Cultura Digital Telmex 2012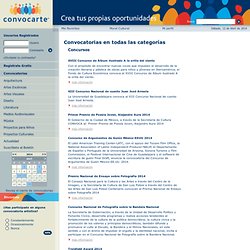 Convocatorias en todas las categorías
Por medio de la presente damos a conocer la segunda convocatoria de Concurso de Guionismo Teatro en los Peñascos, bajo las siguientes bases: 1.- Podrán participar dramaturgos o guionistas de cualquier edad y nacionalidad, a partir de la aparición de la presente convocatoria y hasta el día 20 de Septiembre de 2010. 2.
Apps for Development
Software Developers to Design Tools to Fight Poverty Using Open Data WASHINGTON, October 7, 2010 – The World Bank Group today kicked off the "Apps for Development" competition, the first global contest of its kind. President Robert B.
Convocatoria_2011/2012
Bienvenido al sitio del Instituto Mexicano de la Juventud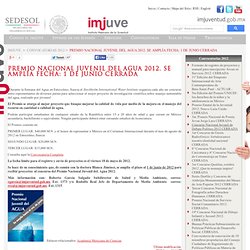 ¡Durante la Semana del Agua en Estocolmo, Suecia el Stockholm International Water Institute organiza cada año un concurso entre representantes de diversos países para seleccionar el mejor proyecto de investigación científica sobre manejo sustentable del agua, realizado por jóvenes! El Premio se otorga al mejor proyecto que busque mejorar la calidad de vida por medio de la mejora en el manejo del recurso en cantidad o calidad de agua. Podrán participar estudiantes de cualquier estado de la República entre 15 a 20 años de edad y que cursen en México secundaria, bachillerato o equivalente.
El ganador del Premio del Jurado es Braulio Jacob Oliva, 28 años, de la Universidad Autónoma De Yucatán.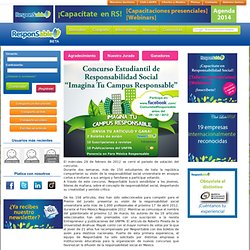 Registro Concurso Artículo Universitario | Responsable.net
About the 2012 Competition
CATE_2012_CFP_Software_Competition.pdf (application/pdf Objeto)
get_file (application/pdf Objeto)