Software
Home - Panoramic Earth. Kolor | Image stitching and virtual tour solutions. Wondershare Panorama. Cymera is simply the best camera application for portraits.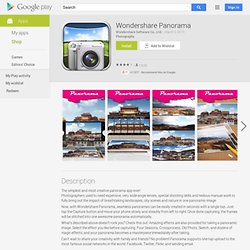 It has everything you need in a selfie camera and photo editor to help you capture and create photos worth awards. It offers a huge variety of lenses and shooting modes, hand-picked filters and the best beauty effects, run through our own face detection technology.All of this plus more than 800 decoration options and the most amazing collage effects.Our All-in-One features include:
360 Panorama Stitching Software - Panomonkey. Panedia - Professional Virtual Tour Production. Panorama Maker - Easily Create Your Own Perfect Panoramas Like A Pro With Photo Stitching Software. What's new in Panorama Maker 7?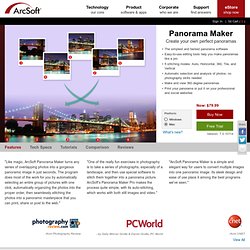 - Version:7.0.10114 Support for Mac OS X Mavericks 10.9. Zoomify - Zoomable web images! Panoclub.de. Panorama Software Panorama Stitcher Panoramic Images. Software VR Photography, QTVR, Quicktime VR. PTGui PTGui is based on panoramatools but does not ned panotools to run anymore.
It can be used for all kinds of panoramas. Cylindric or spherical, 360 degree or less. It can be used both as a fully automatic and a very sofisticated manual stitcher. The Panorama Factory. PTAssembler. Introduction.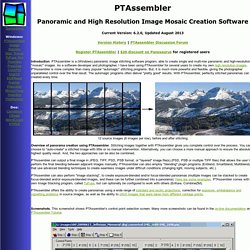 PTAssembler is a (Windows) panoramic image stitching software program, able to create single and multi-row panoramic and high-resolution "mosaic" images. As a software developer and photographer, I have been using PTAssembler for several years to create my own high resolution images. PTAssembler is more complex than many popular "automagic" stitching programs. But, it is much more powerful and flexible, giving the photographer unparalleled control over the final result. The automagic programs often deliver "pretty good" results. Photo Stitching Software - Brilliant Panorama Maker 6 with 3D | ArcSoft. About our products | Kekus Digital, LLC | Kekus Digital. CubicConverter.
CubicConverter 2.2.1 CubicConverter converts various types of panoramic images into and out of cubic format QuickTime VR movies.
It allows simple conversion of VR media with a drop and a click. Hugin - Panorama photo stitcher. Panorama Software - Virtual Tour Software - Easypano. ImmerVision. Kolor | Image stitching and virtual tour solutions. Garden Gnome Software.
Krpano.com. Pleinpot. Pleinpot is the ultimate tool to present easily a full screen panorama on a web page.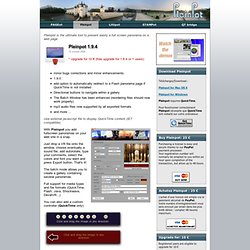 Pleinpot 1.9.4 15 octobre 2008 * Upgrade for 10 € (free upgrade for 1.8.4 or + users) minor bugs corrections and minor enhancements. 1.9.0 : add option to automatically redirect to a Flash panorama page if QuickTime is not installed Directional buttons to navigate within a gallery The Batch Window has been enhanced (reordering files should now work properly) mp3 audio files now supported by all exported formats and more ...
Flash Panorama Player. What is it?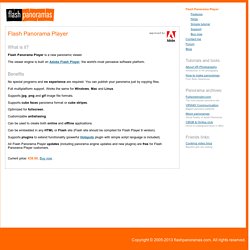 Flash Panorama Player is a new panoramic viewer. The viewer engine is built on Adobe Flash Player, the world's most pervasive software platform. Benefits. Research Image Composite Editor (ICE) What is Image Composite Editor?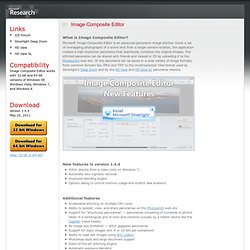 New features in version 1.4.4 Stitch directly from a video (only on Windows 7) Automatic lens vignette removal Improved blending engine Options dialog to control memory usage and scratch disk locations Additional features Support Microsoft Image Composite Editor is provided free of charge and without official support.
Free Photo Editor, Free Image Editor, Photo Editing Software, Image Editing Software and Free Photo Tools. Creates panoramic images easily: Pos Panorama Pro is a free panoramic photo editing utility tool allows you to create panoramic images from series of overlapping photos with just a few mouse clicks - that easy!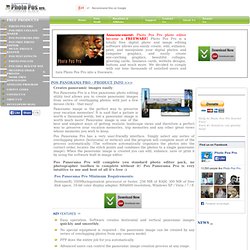 Panoramic image is the perfect way to preserve your vacation memories! It is said that a picture is worth a thousand words, but a panoramic image is worth much more! Panoramic image is one of the best and simplest ways of getting realistic landscape views and therefore a perfect way to preserve your vacation memories, trip memories and any other great views whose memento you wish to keep. Krpano.com. IQTVRA Software/Hardware Links. Stitchers VRToolBox - (IQTVRA Partner Member) •VRWorx 2.5 - Panorama (Single-row)/Object/Scene - - $299 •VRWorx 2.0 - Panorama (Single-row)/Object/Scene -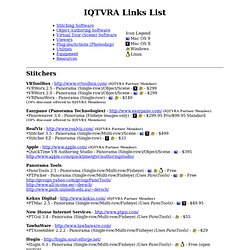 Rune Spaans - Software - Super Cubic. Here's a brief description on how to use the filters. First some info on my setup. I shoot my panoramas using a Nikon 10.5mm fisheye lens on my full frame Canon camera. Click Here Design - Software.
Software. This is a list of all software related wiki pages ordered by category. You find a short category description and links to sub-categorized lists in the relevant paragraph. All pages about software for the Linux/Unix platform. A commented list is available. All pages about software for the Apple Macintosh platform.
---