Photography
Documentary Photography - Six Tips for Creating a Legacy. A Post By: Darlene Hildebrandt We've all gone through times in our lives where we've lost loved ones.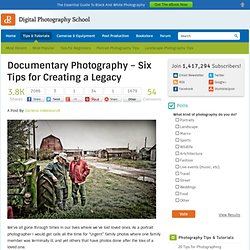 As a portrait photographer I would get calls all the time for "Urgent" family photos where one family member was terminally ill, and yet others that have photos done after the loss of a loved one. Why do we wait until it's too late, or almost too late to capture the lives of those most important to us? 10 Must-Have Camera Settings for Concert Photographing. A Post By: Matthias Hombauer The Rolling Stones: Nikon D800, 185mm at f4, 1/320, ISO 1600 The correct camera settings are key to getting awesome concert photos in low light situations.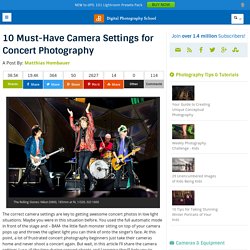 Maybe you were in this situation before. You used the full automatic mode in front of the stage and – BAM- the little flash monster sitting on top of your camera pops up and throws the ugliest light you can think of onto the singer's face. At this point, a lot of frustrated concert photography beginners just take their cameras home and never shoot a concert again. Lightroom and Adobe Camera Raw : Tone Curve - TipSquirrel. How to Take Photos with the Zoom Blur Effect [Includes Printable Cheat Sheet] I was walking around London recently with my camera and I got a bit bored, as I had been wandering by the same part of the city a thousand times, waiting for inspiration.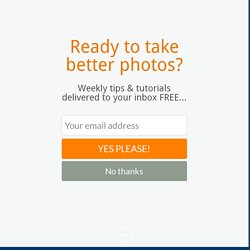 To make it more fun I thought I would try experimenting with long shutter speeds. All of a sudden things got interesting and before I knew it a few hours had passed by. Here is an article on how to do slow shutter zoom photography. How To: HDR Photography. HDR Photography has been around since the days of film, but has become extremely popular in recent years.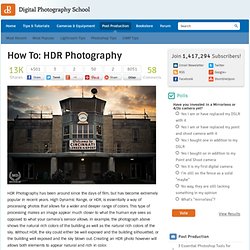 High Dynamic Range, or HDR, is essentially a way of processing photos that allows for a wider and deeper range of colors. This type of processing makes an image appear much closer to what the human eye sees as opposed to what your camera's sensor allows. In example, the photograph above shows the natural rich colors of the building as well as the natural rich colors of the sky. Without HDR, the sky could either be well exposed and the building silhouetted, or the building well exposed and the sky blown out.
Wat zijn beeldsensoren. De beeldsensor in een digitale camera kun je ook wel het hart van een camera noemen.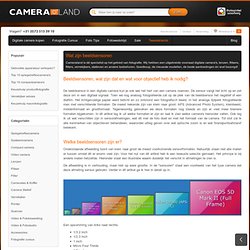 De sensor vangt het licht op en zet deze om in een digitaal signaal. Toen we nog analoog fotografeerde zat op de plek van de beeldsensor het negatief of een diafilm. 10 Questions to Ask When Taking a Photo. A Post By: Darren Rowse What goes through your mind in the moments as you raise your digital camera up to take a shot and before you press the shutter?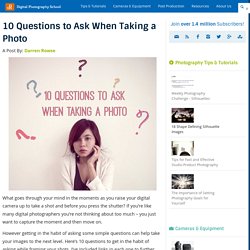 If you're like many digital photographers you're not thinking about too much – you just want to capture the moment and then move on. However getting in the habit of asking some simple questions can help take your images to the next level. Here's 10 questions to get in the habit of asking while framing your shots. I've included links in each one to further reading on the topics. Panoramic Tripod Heads, gigapixel Photography, camera accessories, Foresnic tools, Aerial Poles, istar, 360 equipment. Telescoping pole super strong. FastCap Tech Stealth iPole - XL I STEALTH XL B&H Photo Video. The Best Mirrorless Cameras Used by the ProsPhotoShelter Blog. Posted by: Allen Murabayashi Date: August 7, 2014 | No comment In 2010, we asked professional photographers which point and shoot cameras they were using.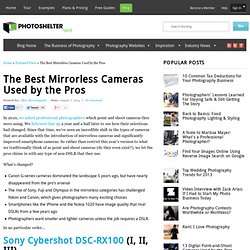 We followed that up a year and a half later to see how their selections had changed. Since that time, we've seen an incredible shift in the types of cameras that are available with the introduction of mirrorless cameras and significantly improved smartphone cameras. 10 Landscape Composition Tips: Illustrated with Pictures from Eastern Washington. A Guest post by Amar Ramesh.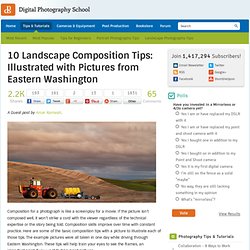 Composition for a photograph is like a screenplay for a movie. If the picture isn't composed well, it won't strike a cord with the viewer regardless of the technical expertise or the story being told. Bug Stalking: Helpful Tips for Getting Started With Insect Photography. Jason Little is a photographer (shooting macros, portraits, candids, and the occasional landscape), part time writer, and full time lover of music.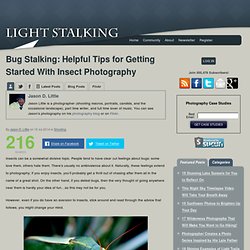 You can see Jason's photography on his photography blog or on Flickr. By Jason D. 500px ISO » Unbelievable Photography. 100 Things I've Learned About Photography. Premiere Pro Help | Multi-Camera editing workflow. The Audio Channels preset determines how the resulting source sequence is mapped.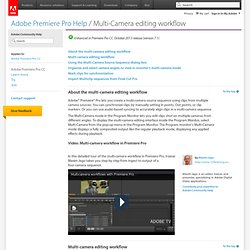 Details include, the type and number of audio tracks that are dropped when the source sequence is nested into the editing sequence. Note: For the resulting source sequence to map correctly with the audio channels, the number of tracks in the source clips should not be greater than the channels associated with the preset you choose. Automatic: Reads the audio type of the first clip and uses this mapping Mono: Maps to as many mono channels as there are output channels in the source sequence. This Week in Photo. 1X - Curated photography. Best sling backpacks. Convenient, accessible and secure, sling bags are becoming the go-to option for more and more travelling photographers. Jon Stapley rounds up the best Manfrotto Brio-10 Stile Plus Sling Price: Around £49.95Website: www.manfrotto.co.uk.
Upload Junction. 14 Ways To Significantly Improve Your Photography Today. A Post By: James Brandon © James Brandon | All Rights Reserved As photographers and artists, we all hit creative walls. We work hard to improve our skills, we learn new things and then it seems we hit a wall. Cheat Sheet: How to Hold a Camera. Learning to hold your digital camera is one of the most basic skills you'll ever learn. In fact it is so basic that many people take it for granted. However, holding your camera correctly is easy to get wrong which in turn leads to images that suffer from camera shake.
36 of the Best Online Tools to Boost Your Photography Business. A Post By: Julia May As a beginner photographer, I put most of my time and energy into the product side of my business. I need to practice, improve my shooting and post processing skills, and just grow as a photographer. However, I have a strong intention to make photography my full-time job and be successful in it, which is hardly possible without a business strategy. Besides, with over five years of experience in social media and content marketing, I know for sure that establishing a sound online presence and effective marketing channels may not show you the money today, but it will shape your business in the long run.
In this article, I'm sharing the results of my recent research on the online marketing and workflow organizing tools for photographers. Retronaut. 10 Reasons Why a Pro is Using a Mirrorless Camera for Personal and Paid Jobs. A Post By: Bryan Caporicci Everyone can take a picture, but as photographers (professional or aspiring), we have the skill set and the tools to create great images in any situation. We have the ability to turn the ordinary into extraordinary through photography.
As the saying goes, the shoemaker's kids have no shoes, and similarly, we often don't put the same emphasis on images for ourselves and our family as we do for others and their families. Digital Cameras, Digital Camera Reviews - The Imaging Resource! Cooliris. SlideShowPro: Slideshow publishing tools for your web site. Digital Photography, Digital Cameras & Photographers | Photo Answers. The Photography Network - PictureSocial. Photography Forum, Landscape, wedding & Family Photography Tips.
Bewerken. Drone. Fujifilm. Panorama. Photos. Print. Tips.
---