Examples
YourVision360
Panoramas.dk-Mediveal Church Murals in Denmark, Last post Office in Netherlands, Occupy Wall Street, Midsummer in Sweden - Photo Panoramiques
WW II - European Landmarks and Memorials of World War 2 in Fullscreen QTVR 360 degree Panoramas
The Geo-Images Project Home Page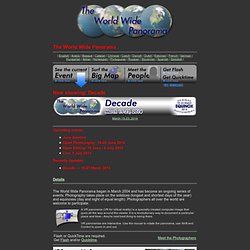 All images are copyright by the individual photographers. Use in any way other than viewing on this web site is prohibited unless permission is obtained from the relevant photographer. Images and panoramas are NOT in public domain, unless stated otherwise by the contributor! Photographers retain the rights to their work and any inquiries must be addressed to the individual participants. The WWP admin team does not provide contact information beyond what has been made public by the participants on their profile pages. Levels of permission for use of material on this site conforms to the Creative Commons licensing standard.
The World Wide Panorama
360° Panorama's uit Vlaanderen - NATUUR
360icon - Panoramas and Digital Imagery of Rural Decay
system|Panomap English edition|panorama management system|vr|Virtual Reality|panorama flash|Virtual Tours|world panorama|
xRez Studio | Extreme Resolution
Rosauro Photography - Panoramas, Toronto Virtual Tour, 360° Panoramic Views, VR Head Reviews
>FromParis : Panoramas, photographs, image bank, Quicktime VR, 360°, free ecards and free screensavers from Paris
Home Page
John's home page
Podibus
Panodigg: Your daily Dose of Fresh VR Panoramas / Published News
360° Panoramic VR Photography :: New York City :: Sam Rohn
Welcome to flashpanoramas.com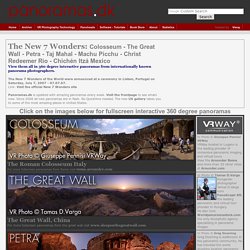 7 Wonders Panoramas - The New 7 Wonders -Travel Great Wall, Taj Mahal, Machu Picchu - 360 degree Panoramas
View them all in 360 degree interactive panoramas from internationally known panorama photographers. The New 7 Wonders of the World were announced at a ceremony in Lisbon, Portugal on Saturday, July 7, 2007 - 07.07.07. Link: Visit the official New 7 Wonders site Panoramas.dk is updated with amazing panoramas every week. Visit the frontpage to see whats new. Since 2008 all new panoramas are in flash.
Paris 26 Gigapixels - Interactive virtual tour of the most beautiful monuments of Paris
Panoramic Photography Part 2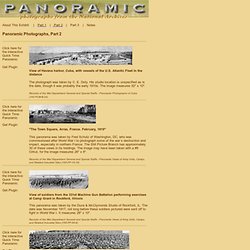 "View of Washington. Looking East from Washington Monument" (Top) This panorama is dated November 1916 and was taken by the H.
Arounder - Travel and Lifestyle in 360-degree Quicktime VR - Virtual Reality Full Screen panoramas
Basilicas and Papal Chapels
Venice Connected | Venice's Official Site for Tourism
Patrimonium-mundi.org : UNESCO World Heritage sites in panophotographies - immersive and interactive panoramic images
World Series Game 1: Rangers vs. Giants | MLB.com: World Series
Wereld Panoramische Fotografie - 360Cities
Comi Valentine, panoramic photographer - 360Cities
Pano.ie | Home
A380 DELIVERY : Qantas : Virtual tour