Northern Soul
Soulful Detroit Celebrating Motown Era Detroit!
Soulful Kinda Music
Soul Discographies On Site 1086 Artist Discographies 615 Label Discographies Now On Site ! This makes Soulful Kinda Music the No. 1 resource for Soul music fans looking for discographical information.
Planet Records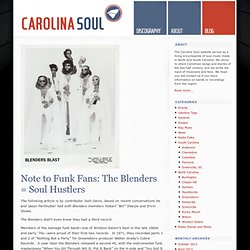 Carolina Soul
The following article is by contributor Josh Davis, based on recent conversations he and Jason Perlmutter had with Blenders members Hobart "Bill" Sharpe and Ervin Stowe. The Blenders didn't even know they had a third record. Members of the teenage funk band—one of Winston-Salem's best in the late 1960s and early '70s—were proud of their first two records. In 1971, they recorded parts 1 and 2 of "Nothing But a Party" for Greensboro producer Walter Grady's Cobra Records.