Girly
10 Truths To Keep Your Relationship Healthy. I think it's easy to make things more complicated than they need to be.
Here are some basic rules of the relationship road that will keep you headed in the right direction 1. DIY Braided Bead Bracelet - Honestly WTF. It's been awhile since our last bracelet DIY.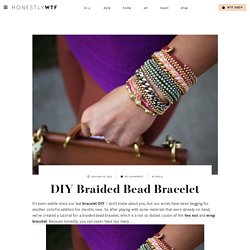 I don't know about you, but our wrists have been begging for another colorful addition for months now. So after playing with some materials that were already on hand, we've created a tutorial for a braided bead bracelet, which is a not so distant cousin of the hex nut and wrap bracelet. Because honestly, you can never have too many . . . 25 Beauty Tips Reusing Household Items - Homemade Beauty Tips on ELLE. 1.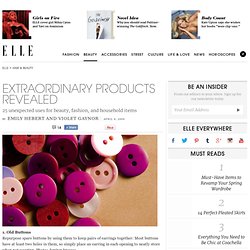 Old Buttons Repurpose spare buttons by using them to keep pairs of earrings together: Most buttons have at least two holes in them, so simply place an earring in each opening to neatly store when not wearing. Photo: Jupiter Images. Adorable Food Earrings - StumbleUpon. - StumbleUpon. Girls are like... - StumbleUpon. What Is Love - StumbleUpon. Love is a slow kiss goodnightIt is anticipation.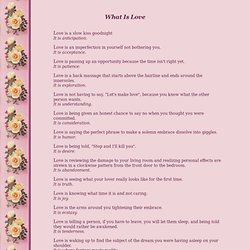 Love is an imperfection in yourself not bothering you.It is acceptance. Love is passing up an opportunity because the time isn't right yet.It is patience. Love is a back massage that starts above the hairline and ends around the innersoles.It is exploration. Offbeat Mama | An interview with Adele, the mother behind "Mila's Daydreams" In January 2012, Harper Collins published Adele's book called "When My Baby Dreams," filled of the pictures from Mila's Daydreams!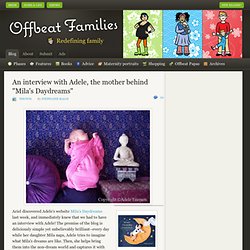 You can purchase the book on Amazon. Ariel discovered Adele's website Mila's Daydreams last week, and immediately knew that we had to have an interview with Adele! The premise of the blog is deliciously simple yet unbelievably brilliant–every day while her daughter Mila naps, Adele tries to imagine what Mila's dreams are like. Chalkboard Wall Calendar - Martha Stewart Home & Garden - StumbleUpon. Thanks to paint that dries into a chalkboard finish, your board can be whatever size you desire and placed wherever you like.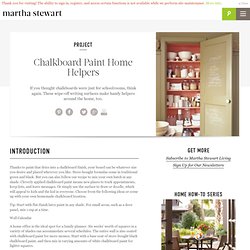 Store-bought formulas come in traditional green and black. But you can also follow our recipe to mix your own batch in any shade. Cleverly applied chalkboard paint means new places to track appointments, keep lists, and leave messages. Or simply use the surface to draw or doodle, which will appeal to kids and the kid in everyone. Choose from the following ideas or come up with your own homemade chalkboard location. A NEW TWIST. Photos: angelaandithyle.com post designed by kristin ess Time to mix up the mundane… This has always been one of our favorite ways to spice up the plain old ponytail.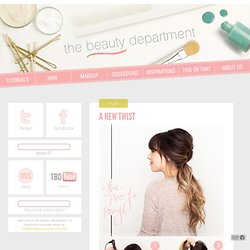 We asked our fabulous friend Jaclyn from somenotesonnapkins.com to lend us a head to show you how to get hot hair in a hurry! This is a great way to style your hair for almost any occasion and can be done in minutes! Here we go… TOOLS: curling iron (we used a 1″ barrel), clear ponytail holder or one that matches your hair color, bobby pins (we prefer large bobby pins for this because they hold a lot of hair and will stay more secure!) How to Make Your Own Beauty Products from Scratch - Health - GOOD - StumbleUpon. Let's keep things simple this week.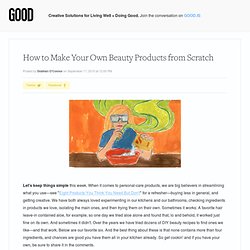 When it comes to personal-care products, we are big believers in streamlining what you use—see "Eight Products You Think You Need But Don't" for a refresher—buying less in general, and getting creative. We have both always loved experimenting in our kitchens and our bathrooms, checking ingredients in products we love, isolating the main ones, and then trying them on their own. 100 Amazing Hairstyles | ~She Exists~ | to Add Colors in Life - StumbleUpon. We women adore fashion and style.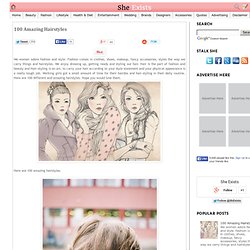 Fashion comes in clothes, shoes, makeup, fancy accessories, styles the way we carry things and hairstyles. We enjoy dressing up, getting ready and styling our hair. Hair is the part of fashion and beauty and Hair-styling is an art, to carry your hair according to your style statement and your physical appearance is a really tough job. Triple Max Tons: Easy Holiday Hair - StumbleUpon. Side Chignon 1.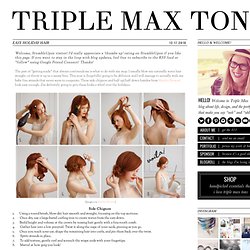 Using a round brush, blow-dry hair smooth and straight, focusing on the top sections. 2. Once dry, use a large-barrel curling iron to create waves from the ears down.
---