Bioinformatics_Database
Pfam: Search Pfam
The Ensembl project produces genome databases for vertebrates and other eukaryotic species, and makes this information freely available online. For easy access to commonly used genomes, drag from the bottom list to the top one · Save Favourites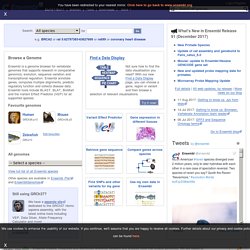 Whole-genome dataset for bread wheat now available in Ensembl Plants An improved genome sequence for bread wheat including more than 100,000 genes has been released in Ensembl Plants. Generated under the auspices of the International Wheat Genome Sequencing Consortium (IWGSC), the Chromosome Survey Sequence represents the most complete version of the wheat genome to date. ELIXIR launches as legal entity Estonia is the fifth country to ratify the ELIXIR Consortium Agreement.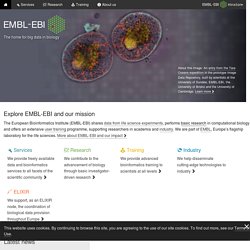 SNP structure,function,disease: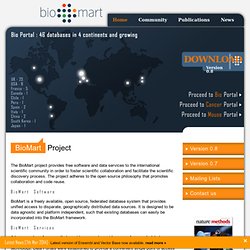 BioMart
BioMart Project The BioMart project provides free software and data services to the international scientific community in order to foster scientific collaboration and facilitate the scientific discovery process. The project adheres to the open source philosophy that promotes collaboration and code reuse.