Recetas
Grilled S'more Brownie. Broccoli parmesan fritters. Last week, it was pointed out to me that among the 750 recipes in the archives, there is but a single recipe that utilizes broccoli.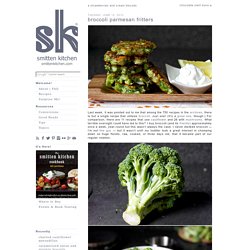 Just one! (It's a great one, though.) For comparison, there are 11 recipes that use cauliflower and 26 with mushrooms. 36 Cupcake recipes : DIY, Crafts, Food & Household Tips. Homemade Junk Food | Spark. Homemade Twix bars.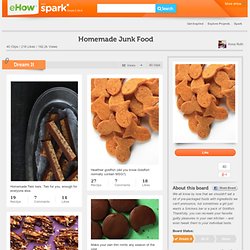 Two for you, enough for everyone else. 19 Reclips 14 Likes. Apple Pies. I know, I've made a few pies lately.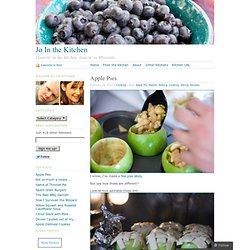 But see how these are different? Look at how adorable these are! I mean, come on. Could you resist? Healthy Baked Chicken Nuggets. Chunks of all white meat chicken breasts coated in breadcrumbs and parmesan cheese then baked until golden.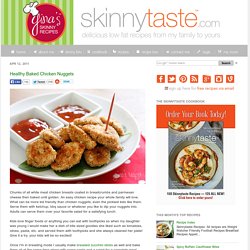 An easy chicken recipe your whole family will love. What can be more kid friendly than chicken nuggets, even the pickiest kids like them. Serve them with ketchup, bbq sauce or whatever you like to dip your nuggets into. Bake sale week: raspberry lemonade bars. I know this seems like a bit of a cop out, seeing as last year I made those lime bars, but the name of these just makes you want one, doesn't it?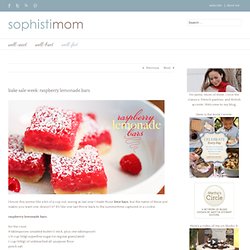 It's like one last throw back to the summertime captured in a cookie. raspberry lemonade bars for the crust: 9 tablespoons unsalted butter (1 stick, plus one tablespoon) 1/4 cup (50g) superfine sugar (or regular granulated) 1 cup (100g) of unbleached all-purpose flour pinch salt for the filling: 1 1/2 cups (287g) superfine sugar (or regular granulated) 3 egg whites 1 egg 2/3 cup (150mL) freshly squeezed lemon juice (from 3 lemons) 2 tablespoons lemon zest (from 2 lemons) 2/3 cup (65g) unbleached, all-purpose flour pinch of salt 1-2 cups (150-275g) of frozen raspberries, defrosted 1 tablespoon confectioner's sugar 1.
Sweet Soy Glazed Chicken and Onions. I can't remember where I found the recipe, but it is fantastic and so simple!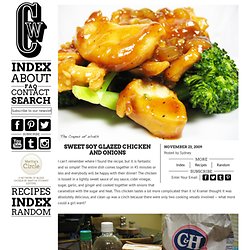 The entire dish comes together in 45 minutes or less and everybody will be happy with their dinner! The chicken is tossed in a lightly sweet sauce of soy sauce, cider vinegar, sugar, garlic, and ginger and cooked together with onions that caramelize with the sugar and heat. This chicken tastes a lot more complicated than it is! Kramer thought it was absolutely delicious, and clean up was a cinch because there were only two cooking vessels involved – what more could a girl want? Homemade Snickers Bars. Insanity.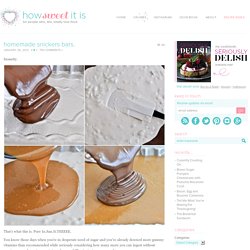 That's what this is. Pure In.San.It.TEEEEE. You know those days when you're in desperate need of sugar and you've already downed more gummy vitamins than recommended while seriously considering how many more you can ingest without causing severe harm to your internal organs? Irish Car Bomb Cupcakes Recipe. As I mentioned on Friday, I have been doing some experimentation with the beer and chocolate combination.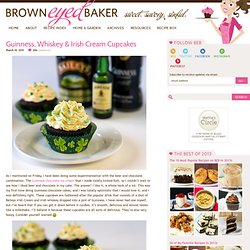 The Guinness-chocolate ice cream that I made totally kicked butt, so I couldn't wait to see how I liked beer and chocolate in my cake. The answer? I like it, a whole heck of a lot. This was my first time doing Guinness-chocolate cakes, and I was totally optimistic that I would love it, and I was definitely right. Pepperoni Pizza Monkey Bread. How do you make bread even better?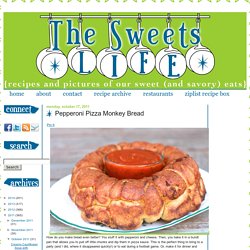 You stuff it with pepperoni and cheese. Then, you bake it in a bundt pan that allows you to pull off little chunks and dip them in pizza sauce. Chocolate Chip Lava Cookies. I am so in love with these darn chocolate lava cookies!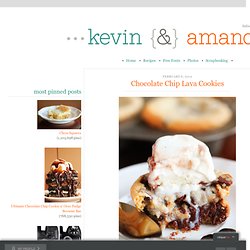 What is it about a warm, gooey chocolate chip cookie stuffed with decadent, rich, melted chocolate that makes it so irresistible?? Especially when topped with vanilla ice cream. These are one of Kev's favorite homemade treats, and he usually asks me to make them at least once a week. They are so simple to whip up, and such a treat! Let's make some right now :) Picky Palate. Pierogi Recipe. October 2, 2010 My mom is obsessed with keeping a stocked freezer, but I guess I don't really take after her, because my freezer tends to be relatively empty, aside from random containers of stock/ramen broth, frozen dumplings and pierogi.
I admit, I store buy frozen chinese dumplings and pierogi for those times that I just don't feel like cooking. I tell myself it's because of ease and convenience, but really, I just love the taste of frozen pockets filled with deliciousness. Pierogi are fast, tasty, and ideal for when I let myself get too hungry and become a crazy unthinking monster. (This happens more often than you would believe). How to Cook. Favorite Collections let you organize your favorite ATK content. Are you building a menu for an upcoming birthday dinner? You can keep those recipes in a collection called "John's 50th Birthday," for example. Your collections can include more than just recipes, too. Blue-Eyed Bakers - Blue Eyed Bakers. Baked Egg Boat recipe. Breakfast is my favorite meal. I like to drink iced coffee and watch the cream climb its way down the chunky ice cubes in a dazy before the caffeine hits.
I like to order bacon with whatever I'm eating. I like eating potatoes with ketchup. I like eggs over easy, and fluffy scrambled eggs. A brownie by any other name… Love brownies. Love their shiny, flaky top that shatters into micro-thin shards that shower onto your fingers as you eat. Love their dark, gooey center. Their "chocolate nirvana" flavor. Sometimes can't deal with the bake, wait to cool, cutting into squares messiness and fuss of brownies. Want something I can enjoy within 5 minutes of its exit from the oven. Artisan Bread in Five Minutes a Day. And I'm not even kidding! Easiest. Recipe. Ever! Caramel Apple Pie Cupcakes « The Craving Chronicles. Rubik's Battenburg Cake. Food Pyramid Submissions. Recipes from Kevin & Amanda. Icings Recipes at Bake Decorate Celebrate! Pasta Recipes. Oreo and Peanut Butter Brownie Cakes. Penniesonaplatter. Cheesecake Stuffed Strawberries.
---