General history research methods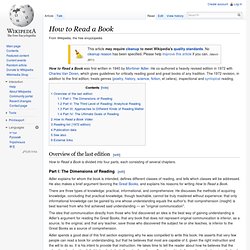 How to Read a Book
How to Read a Book was first written in 1940 by Mortimer Adler . He co-authored a heavily revised edition in 1972 with Charles Van Doren , which gives guidelines for critically reading good and great books of any tradition.
The World Library is a list of the 100 best books, as proposed by one hundred writers from fifty-four different countries, compiled and organized in 2002 by the Norwegian Book Club.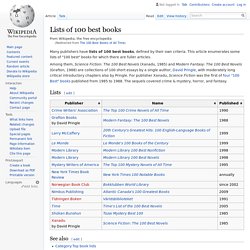 Time's List of the 100 Best Novels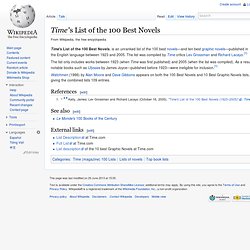 , is an unranked list of the 100 best novels —and ten best graphic novels —published in the English language between 1923 and 2005. The list was compiled by critics Lev Grossman and Richard Lacayo. [ 1 ] The list only includes works between 1923 (when was first published) and 2005 (when the list was compiled).
Learning to read
Learning to read is the process of acquiring the skills necessary for reading; that is, the ability to acquire meaning from print.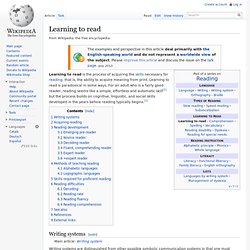 Homer on the Internet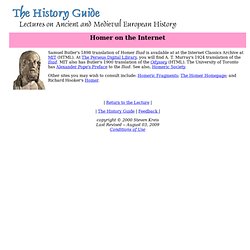 Samuel Butler's 1898 translation of Homer Iliad is available at at the Internet Classics Archive at MIT (HTML). At The Perseus Digital Library, you will find A.
The Iliad by Homer
The Odyssey by Homer
The History Guide -- Main
KAIROS InBox: Beyond the MLA Handbook (Harnack/Kleppinger)
Andrew Harnack and Gene Kleppinger When our rhetoric students need to cite Internet sources in their writing projects, we've found some helpful (but often confusing) style sheets on the net.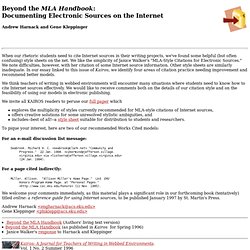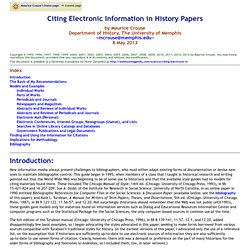 Citing Electronic Information in History Papers
by Maurice Crouse Department of History, The University of Memphis <mcrouse@memphis.edu> 8 May 2013 Copyright © 1995, 1996, 1997, 1998, 1999, 2000, 2001, 2002, 2003, 2004, 2005, 2006, 2007, 2008, 2009, 2010, 2011, 2012, 2013 by Maurice Crouse.
A BRIEF CITATION GUIDE FOR INTERNET SOURCES IN HISTORY AND THE HUMANITIES (Version 2.1) by: Melvin E.
A Brief Citation Guide for Internet Sources in History and the Humanities