BlackBerry PlayBook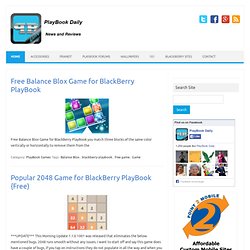 PlayBook Daily
Free Balance Blox Game for BlackBerry PlayBook you match three blocks of the same color vertically or horizontally to remove them from the ***UPDATE*** This Morning Update 1.1.0.1001 was released that eliminates the below mentioned bugs. 2048 runs smooth without any issues. I want to start off and say this game does have a couple of bugs, if you tap on instructions they do not populate in all the way and when you run out of moves the […] I've received a few questions from those either buying or recently purchased the BlackBerry PlayBook about whether or not it would update to the latest OS since OS support was dropped. I honestly thought the
N4BB - News for BlackBerry - forums, leaks, rumors, videos, faqs, reviews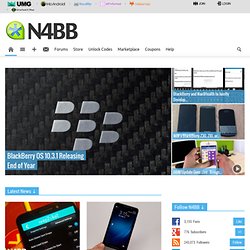 BBM Update Goes Live – Brings... Why BlackBerry is Ignoring High-end All-touch... New BlackBerry 7 Bold Devices Planned BlackBerry 10.3 Hands On [VIDEO]
Playbook OS
The Automattic team really snuck this one out! Last week I let you know they were planning to release version 1.6 of WordPress for BlackBerry as an ap... Now that OS 2.0 is officially out for the BlackBerry PlayBook, I'm sure many of you want to learn everything you can about it.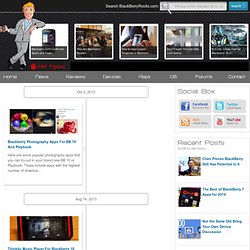 PlayBook | BlackBerryRocks.com
Inside BlackBerry - The Official BlackBerry Blog
BlackBerry - PlayBook
Inside BlackBerry for Business Blog
Well, I finally found time to write a little howto on using your pendrive with the PlayBook. I'm sorry about the delay on publishing this, but i was out of home for a few days and couldn't find time to write the howto. Well, let's go to the howto. Things you will need: - BlackBerry PlayBook
elTecnoBlog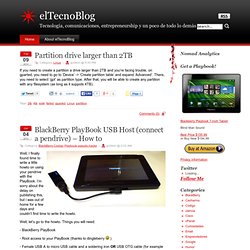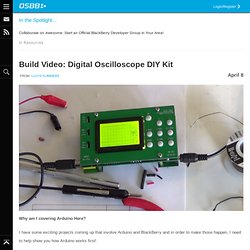 Cascades is a framework built on top of Qt, a C++ application framework. Qt allows for fantastic user interfaces with a custom language based on JavaScript called QML, or Qt Modeling Language. Not only is QML based on the structure of JavaScript, but it allows us to use JavaScript in our code. Coming from a web design background, I have almost ZERO experience with C++. I'm not saying it's difficult to use or challenging, I'm just personally not use to it. When I learned that I can opt for JavaScript to do simple functions instead of C++ I was ecstatic, I just wasn't sure where to start.
OpenSourceBB.com – OSBB ← BlackBerry hybrids, news, opinion and resources. Your PlayBook headquarters
PlayBook BARs
Simple Browser | BNXtreme
Here's a roundup of some jb tweaks that have been getting buzz recently: CamText CamText ($1.49) lets you walk and text at the same time. Basically, uses your camera to see what's ahead of you, and overlays your texts over that image, so you can text without walking into a wall. Badger 7
Dingleberry jailbreak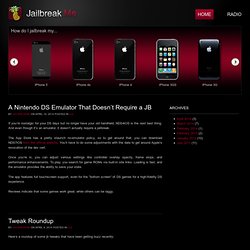 All the games on DOSGAMES.com ...
Labrynth of Zeux (Sidescroll)Ladder Man 3 (Puzzle)Lamers (Misc)Larax & Zaco (Sidescroll)Laser Light (Puzzle)Last Half of Darkness (Adventure)Lawn Mower (Sim/Strategy)Legal Tender (3D Shooting)Legend of Saladir (RPG)Legend of the Silver Talisman (RPG)Lemmings (Puzzle)Lemwar (Sim/Strategy)Letter Targets (Misc)Leygref's Castle (RPG)LHX Attack Chopper (Sim/Strategy)Liero (Action)Line Wars II (3D Shooting)Llamatron (Action)Loader Larry (Puzzle)Lock 'N' Chase (Classic)Logo (Edu/Kids)Lost Vikings (Sidescroll)Lunatix (Adventure)Lure of the Temptress (Adventure)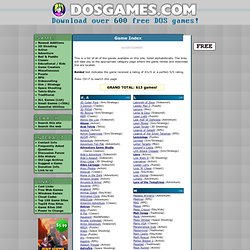 Impatica Inc. - Web and Mobile Presentation Solutions
CrackBerry.com – The #1 Site for BlackBerry Users & Abusers
BlackBerry has just released an update to the software for BlackBerry PlayBooks. While it's not a full BlackBerry 10 update, the 133MB PlayBook update brings some great changes and lays the groundwork for bringing BlackBerry 10 to the device. The changes that come with this update include:
PlayBook | The BerryFix.com
BNXtreme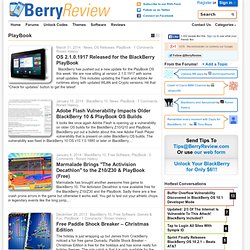 OS 2.1.0.1917 Released for the BlackBerry PlayBook BlackBerry has pushed out a new update for the PlayBook OS this week. We are now sitting at version 2.1.0.1917 with some small updates. This includes updating the Flash and Adobe Air runtimes along with updated WLAN and Crypto versions. Hit that "Check for updates" button to get the latest! Adobe Flash Vulnerability Impacts Older BlackBerry 10 & PlayBook OS Builds
Category