BlackBerry PlayBook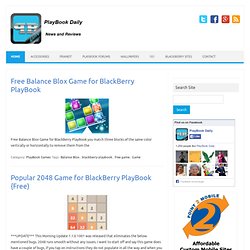 PlayBook Daily
Domino Scorer lets you keep track of your game of Five and Threes or straight Dominoes without having to Continue reading BlackBerry Bridge update version 3.2.0.8 will now allow BlackBerry 10 device users to take advantage of your PlayBook. I know this is long overdue but it is now available for those wanting to use your BlackBerry device connection to browse … Continue reading Scalene Software, co-developer of Krungie Factor game NeverMaze, today announced Alpha Memory, its latest mobile game. Available today from BlackBerry World for BlackBerry 10 smartphones and the BlackBerry PlayBook tablet, Alpha Memory is a free and open source native game. … Continue reading This is a pretty cool game, but as I play it more and more, I did find some minor glitches that I hope will be fixed up in a future release.
N4BB - News for BlackBerry - forums, leaks, rumors, videos, faqs, reviews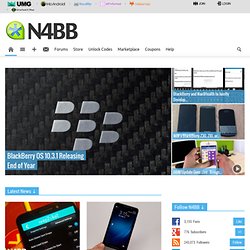 BBM Update Goes Live – Brings... Why BlackBerry is Ignoring High-end All-touch... New BlackBerry 7 Bold Devices Planned BlackBerry 10.3 Hands On [VIDEO]
Playbook OS
It's no secret that Netflix has absolutely no presence on BlackBerry devices other than third-party apps which don't offer full functionality. Many of you have asked, complained and some even begged Netflix to release an official app for BlackBerry smartphones and the PlayBook. Why they don't offer us apps is unknown but Philip Whittle let me know he took it upon himself to publish a petition on Change.org to make it happen.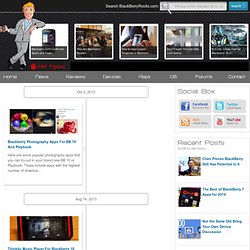 PlayBook | BlackBerryRocks.com
Inside BlackBerry - The Official BlackBerry Blog
BlackBerry - PlayBook
Inside BlackBerry for Business Blog
Well, I finally found time to write a little howto on using your pendrive with the PlayBook. I'm sorry about the delay on publishing this, but i was out of home for a few days and couldn't find time to write the howto. Well, let's go to the howto. Things you will need: - BlackBerry PlayBook
elTecnoBlog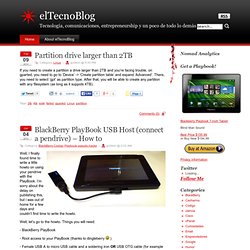 Recently, a friend introduced me to Arduino. Rather, he's been trying to introduce me for a while and I've just been too darned busy to play with it. So, I took on some projects and spent some energy on it this last month.
OpenSourceBB.com – OSBB ← BlackBerry hybrids, news, opinion and resources. Your PlayBook headquarters
PlayBook BARs
Simple Browser | BNXtreme
As the grueling wait for an iOS 6 JB drags on, some fans are questioning whether jailbreaking is on the decline. Has Apple become too powerful to beat? Will we ever see another iDevice jailbreak? Is this the end of jailbreaking as we know it? Well obviously jailbreaking isn't dead.
Dingleberry jailbreak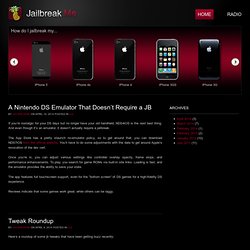 All the games on DOSGAMES.com ...
Labrynth of Zeux (Sidescroll)Ladder Man 3 (Puzzle)Lamers (Misc)Larax & Zaco (Sidescroll)Laser Light (Puzzle)Last Half of Darkness (Adventure)Lawn Mower (Sim/Strategy)Legal Tender (3D Shooting)Legend of Saladir (RPG)Legend of the Silver Talisman (RPG)Lemmings (Puzzle)Lemwar (Sim/Strategy)Letter Targets (Misc)Leygref's Castle (RPG)LHX Attack Chopper (Sim/Strategy)Liero (Action)Line Wars II (3D Shooting)Llamatron (Action)Loader Larry (Puzzle)Lock 'N' Chase (Classic)Logo (Edu/Kids)Lost Vikings (Sidescroll)Lunatix (Adventure)Lure of the Temptress (Adventure)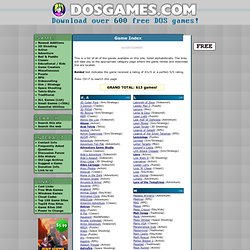 Impatica Inc. - Web and Mobile Presentation Solutions
CrackBerry.com – The #1 Site for BlackBerry Users & Abusers
BlackBerry has just released an update to the software for BlackBerry PlayBooks. While it's not a full BlackBerry 10 update, the 133MB PlayBook update brings some great changes and lays the groundwork for bringing BlackBerry 10 to the device. The changes that come with this update include:
PlayBook | The BerryFix.com
BNXtreme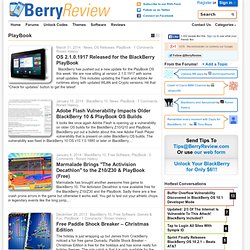 OS 2.1.0.1917 Released for the BlackBerry PlayBook BlackBerry has pushed out a new update for the PlayBook OS this week. We are now sitting at version 2.1.0.1917 with some small updates. This includes updating the Flash and Adobe Air runtimes along with updated WLAN and Crypto versions. Hit that "Check for updates" button to get the latest! Adobe Flash Vulnerability Impacts Older BlackBerry 10 & PlayBook OS Builds
Category