BlackBerry PlayBook
PlayBook Daily. N4BB - News for BlackBerry - forums, leaks, rumors, videos, faqs, reviews. Playbook OS. PlayBook. The Automattic team really snuck this one out!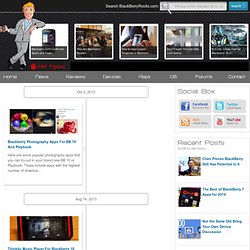 Last week I let you know they were planning to release version 1.6 of WordPress for BlackBerry as an ap... Now that OS 2.0 is officially out for the BlackBerry PlayBook, I'm sure many of you want to learn everything you can about it. Inside BlackBerry - The Official BlackBerry Blog. BlackBerry - PlayBook. Inside BlackBerry for Business Blog. ElTecnoBlog.
OpenSourceBB.com – OSBB ← BlackBerry hybrids, news, opinion and resources. Your PlayBook headquarters. PlayBook BARs. Simple Browser | BNXtreme. Dingleberry jailbreak. All the games on DOSGAMES.com ... Labrynth of Zeux (Sidescroll)Ladder Man 3 (Puzzle)Lamers (Misc)Larax & Zaco (Sidescroll)Laser Light (Puzzle)Last Half of Darkness (Adventure)Lawn Mower (Sim/Strategy)Legal Tender (3D Shooting)Legend of Saladir (RPG)Legend of the Silver Talisman (RPG)Lemmings (Puzzle)Lemwar (Sim/Strategy)Letter Targets (Misc)Leygref's Castle (RPG)LHX Attack Chopper (Sim/Strategy)Liero (Action)Line Wars II (3D Shooting)Llamatron (Action)Loader Larry (Puzzle)Lock 'N' Chase (Classic)Logo (Edu/Kids)Lost Vikings (Sidescroll)Lunatix (Adventure)Lure of the Temptress (Adventure)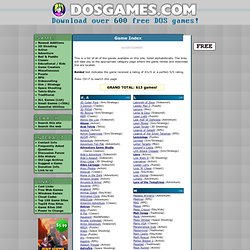 Impatica Inc. - Web and Mobile Presentation Solutions. CrackBerry.com – The #1 Site for BlackBerry Users & Abusers. PlayBook | The BerryFix.com. BlackBerry has just released an update to the software for BlackBerry PlayBooks.
While it's not a full BlackBerry 10 update, the 133MB PlayBook update brings some great changes and lays the groundwork for bringing BlackBerry 10 to the device. The changes that come with this update include: BNXtreme. Category. OS 2.1.0.1917 Released for the BlackBerry PlayBook BlackBerry has pushed out a new update for the PlayBook OS this week.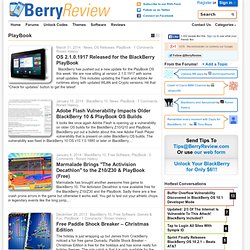 We are now sitting at version 2.1.0.1917 with some small updates. This includes updating the Flash and Adobe Air runtimes along with updated WLAN and Crypto versions. Hit that "Check for updates" button to get the latest! Adobe Flash Vulnerability Impacts Older BlackBerry 10 & PlayBook OS Builds.
---