Beepradio
Aristophanes. Aristophanes (/ˌærɨˈstɒfəniːz/ or /ˌɛrɨˈstɒfəniːz/;[2] Greek: Ἀριστοφάνης, pronounced [aristopʰánɛːs]; c. 446 BC – c. 386 BC), son of Philippus, of the deme Cydathenaus,[3] was a comic playwright of ancient Athens.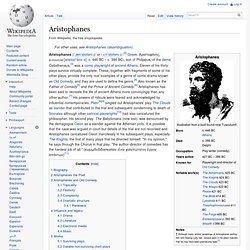 Eleven of his thirty plays survive virtually complete. These, together with fragments of some of his other plays, provide the only real examples of a genre of comic drama known as Old Comedy, and they are used to define the genre.[4] Also known as the Father of Comedy[5] and the Prince of Ancient Comedy,[6] Aristophanes has been said to recreate the life of ancient Athens more convincingly than any other author.[7] His powers of ridicule were feared and acknowledged by influential contemporaries; Plato[8][9] singled out Aristophanes' play The Clouds as slander that contributed to the trial and subsequent condemning to death of Socrates although other satirical playwrights[10] had also caricatured the philosopher.
Quartz Composer Installation Tutorial » Quartz Composer. In this tutorial you'll learn how to install Quartz Composer.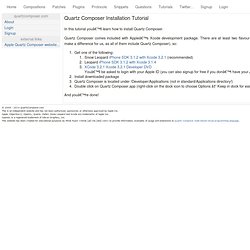 Quartz Composer comes included with Apple's Xcode development package. There are at least two flavours (which don't make a difference for us, as all of them include Quartz Composer), so: Get one of the following: Install downloaded package Quartz Composer is located under /Developer/Applications (not in standard/Applications directory!) Quartz composer audio routing. Dave Devries' The Monster Engine - A Journey Into Children's Imaginations. GrandVJ – Eight channels VJ software for real time HD video mixing. Kineme | Quartz Composer Stuff. Quartz Composer User Guide: Introduction to Quartz Composer User Guide.
Quartz Composer is a development tool for processing and rendering graphical data.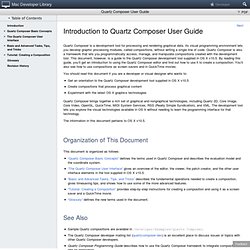 Its visual programming environment lets you develop graphic processing modules, called compositions, without writing a single line of code. Quartz Composer is also a framework that lets you programmatically access, manage, and manipulate compositions created with the development tool. This document, however, is a guide to the Quartz Composer development tool supplied in OS X v10.5. VSXu - audio visualizer, music visualizer, visual programming language (VPL), realtime graphics design platform.   Cue Point Chords. When I first started experimenting with cue point juggling last year it was a blast but playing the same sample a million times can get a little stale.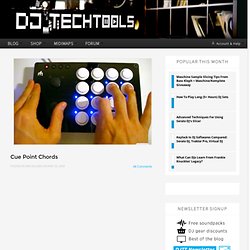 This led me to explore various ways of working with cue points and FX to create a richer palette of sounds. The results of that exploration became a new concept that could be called cue point chords. Arcade Joysticks and Game Controllers. The Indestructible Universal Arcade Joystick Pick a favorite game, plug in this bad boy, and proceed to unload a can of whoop-a** on all your buddies, family members, unsuspecting children, or small furry pets.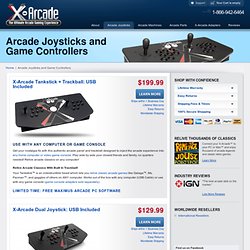 Unbreakable American-designed parts and special game console adapters inject the X-Arcade™ into your favorite game system. The Most Versatile And Authentic Joystick Available Limited Time: Free Maximus Arcade PC Software. ControllerMate :: Introduction. March 14, 2014 Requires Mac OS X 10.6 "Snow Leopard" or newer ControllerMate v4.5.3 can be used with Mac OS X 10.4/10.5 ControllerMate building blocks are triggered by controls on devices or MIDI messages.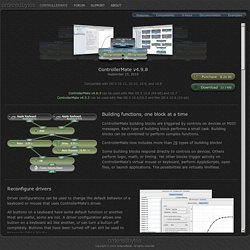 Each type of building block performs a small task. Building blocks can be combined to perform complex functions. Tattiebogle.net - Mac OS X driver. Introduction I have created a USB driver which allows you to use wired XBox 360 Controllers via USB, and wireless XBox 360 Controllers via the Microsoft Wireless Gaming Receiver for Windows, on your OSX machine, including support for the Apple Force Feedback library.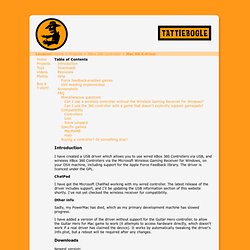 The driver is licenced under the GPL. ChatPad I have got the Microsoft ChatPad working with my wired controller. MultiControl.   Midi Fighter Setup. Midi Fighter Pro | Midi Fighter 3D | Midi Fighter Spectra Download the Midi Fighter Utility: OSX (requires 10.6.8 or newer) or Windows (requires Vista 32/64 or newer) 1.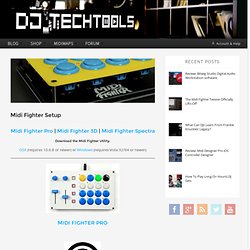 MenTaLguY: An N-SPC Reference: ROMHacking Music for Super Mario World, Super Metroid, and More. This is a reference for working with the N-SPC sound engine, used by SNES games like Super Mario World, Super Metroid, F-Zero, and many others.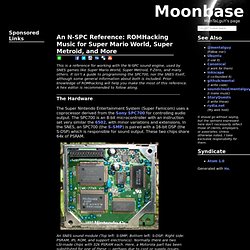 It isn't a guide to programming the SPC700, nor the SNES itself, although some general information about both is included. Prior knowledge of ROMhacking will help you make the most of this reference. A hex editor is recommended to follow along. The Hardware.
Pearltrees videos
Getting started.
---