Tips
Resources For Screenwriters
Screenwriting Resource Links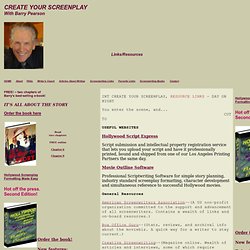 You enter the scene, and... ..................................................CUT TO Script submission and intellectual property registration service that lets you upload your script and have it professionally printed, bound and shipped from one of our Los Angeles Printing Partners the same day. Professional Scriptwriting Software for simple story planning, industry standard screenplay formatting, character development and simultaneous reference to successful Hollywood movies. General Resources --(A US non-profit organization committed to the support and advancement of all screenwriters.
Go Into The Story: How I Write A Script, Part 1: Story Concept
"How do you write a script?" I get asked that question a lot. So here it is, "The Not So Famous Scott Myers Approach To Writing A Screenplay From Concept To Fade Out: A 10-Part Series." It all starts with the concept. And every day, I task myself to come up with strong, marketable story concepts. How?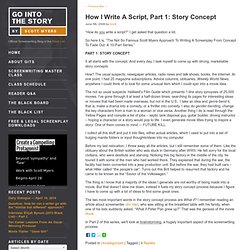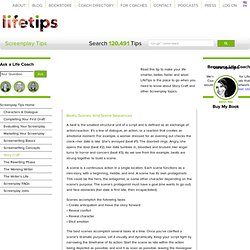 Beats, Scenes, And Scene Sequences A beat is the smallest structural unit of a script and is defined as an exchange of action/reaction. It's a line of dialogue, an action, or a reaction that creates an emotional moment. For example, a woman dressed for an evening out checks the clock—her date is late. She's annoyed (beat #1).
Screenplay | Story Craft Tip: Beats, Scenes, And Scene Sequences
Merrill Barr explains why Nikita's final six-episode season is mostly for Netflix: The old model was simple: start a show, make 100 episodes, sell-off the syndication rights, continue producing episodes until it's no longer cost-effective and cancel the series. That was it. In that model, endings mean nothing; they're just convenient wrap-ups to a story the money men didn't care about. The old model was based on consuming shows one episode at a time, not the binge-watching that is so prevalent today. Netflix has made series finales matter because without an ending a series is less likely to be picked up by their service, and in the age of digital distribution not getting your series on Netflix is like not getting your product into Wal-Mart. [...Networks] must go out of their way not to produce a certain number of episodes, but to conclude their shows properly to make them more viable entities in the digital future.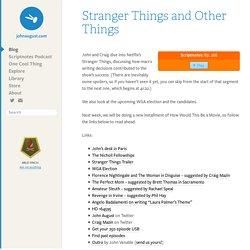 screenwriting tips and info from screenwriter John August