Fantasy and science fiction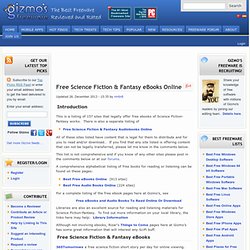 Introduction This is a listing of 157 sites that legally offer free ebooks of Science Fiction-Fantasy works. There is also a separate listing of Free Science Fiction & Fantasy Audiobooks Online All of these sites listed have content that is legal for them to distribute and for you to read and/or download..
Free Science Fiction & Fantasy Books Online
Total eBooks in selected subject: 1228 on 123 pages. by Can you imagine what your world might be like, One Minute After? A blurring of reality that transcends rational bounds; where every frame of reference has been turned on its head, and visuals are but fleeting reflections in a hall of mirrors?
Category: Science Fiction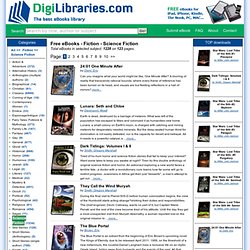 EP Flash: One Million Years B.F.E. : Escape Pod
infinity plus also: still available online:the infinity plus online genre fiction showcase more than 2.1 million words of fiction from some of the biggest names in the field, 1000 book reviews and 100 interviews Latest books from infinity plus Recent titles Hairy London by Stephen Palmer What is love?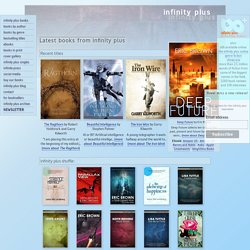 science fiction, fantasy and horror from infinity plus
Biology in Science Fiction: Free Fiction
Welcome to the Biology in Science Fiction directory! The science in science fiction isn't limited to ray guns, black holes and space ships. Many science fiction stories, movies and television shows rely on the biosciences - cloning, genetic engineering, intelligence enhancements and longevity treatments - to provide the science for their fiction.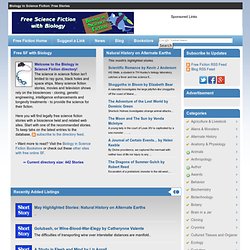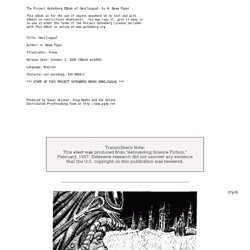 The Project Gutenberg eBook of Omnilingual, by H. Beam Piper
The Project Gutenberg EBook of Omnilingual, by H. Beam Piper This eBook is for the use of anyone anywhere at no cost and with almost no restrictions whatsoever. You may copy it, give it away or re-use it under the terms of the Project Gutenberg License included with this eBook or online at www.gutenberg.org Title: Omnilingual Author: H. Beam Piper Illustrator: Freas Release Date: October 2, 2006 [EBook #19445] Language: English Character set encoding: ISO-8859-1 *** START OF THIS PROJECT GUTENBERG EBOOK OMNILINGUAL *** Produced by Susan Skinner, Greg Weeks and the Online Distributed Proofreading Team at http://www.pgdp.net Transcriber's Note: This etext was produced from "Astounding Science Fiction," February, 1957. Extensive research did not uncover any evidence that the U.S. copyright on this publication was renewed.