Blogs on writing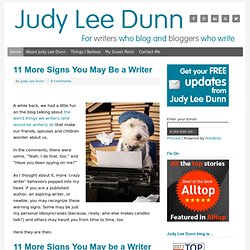 Judy Dunn, a blogger who educates, entertains and engages | Cat's Eye Writer Blog | Judy Dunn | Blogging Coach | Social Media Copywriter
Today I introduce a friend and colleague who has taught me so much about setting goals, managing my time, and making one of the most important projects of my lifetime, my book, happen. Please give a warm welcome to business and life coach extraordinaire, Kaarina Dillabough. And feel free to ask your questions in the comments following this guest post. Now, here's Kaarina: Have you been thinking about writing a book…seeing it in your mind's eye, but never setting pen to paper or fingers to keyboard? That's like turning to the final page of an existing book and believing that you've read it, when you've never even turned a page.
Having trouble making the scenes in your novel work their magic? In this article, I'll show you how to write the "perfect" scene. Maybe you think it's impossible to write the perfect scene. After all, who can choose every word perfectly, every thought, every sentence, every paragraph? What does perfection mean, anyway? Honestly, I don't know.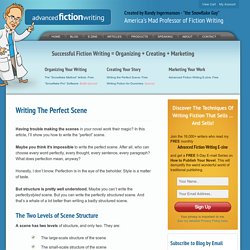 Top Tips for a Good Plot -
The most fundamental element of any work of fiction is the plot. In the most fundamental of terms, the plot is the story that is being told within a work of fiction. If you are interested in advancing your own skills in the realm of writing, specifically in the writing of fine fiction, you will want to take a moment to consider these top tips for creating a good plot. Understanding the Principle of "Suspension of Disbelief" Of course, the plot is the heart of fiction writing.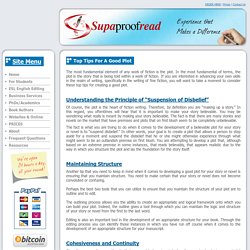 Modern Author Showcase
Frank Lloyd Wright's Imperial Hotel in Tokyo (Wikimedia Commons) Today's guest, Jennifer Cody Epstein, is the author of The Gods of Heavenly Punishment and the international bestseller The Painter from Shanghai. She has written for The Wall Street Journal, The Asian Wall Street Journal, Self, Mademoiselle and NBC, and has worked in Hong Kong, Japan and Bangkok, Thailand. She lives in Brooklyn, New York, with her husband, two daughters and an exceptionally needy Springer Spaniel. Jennifer Epstein joins us to offer her tips and suggestions for writing historical fiction, something near and dear to her heart.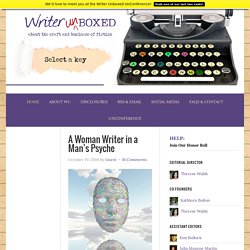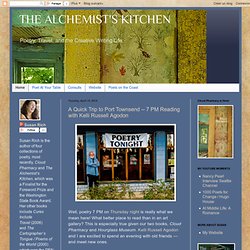 THE ALCHEMIST'S KITCHEN
The great news is that small presses often give poets a great deal of leeway in terms of choosing a cover. The not-so-great news is that small presses often give poets a great deal of leeway in terms of choosing a cover. For each of my four collections of poetry I have spent anywhere from a few days to eight months looking for the right image to represent my work. There are so many aspects of putting a book together that no one ever talks about in MFA programs or really, anywhere.
By All The Ladies At LTWF So, for a while now, the ladies of LTWF have wanted to find a way to take this site to the next level. Since LTWF started in fall 2009, we've grown and grown and grown, both in terms of our wonderful community and in terms of our own personal development. It has been exciting and exhilarating and one of the greatest experiences of our lives. But a few months ago, we asked each other: what if we changed things up a bit?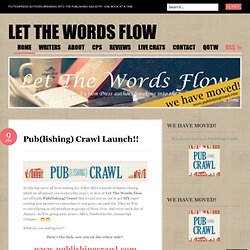 Let The Words Flow
I'm very happy to have my good friend and former Lady Scribe Catherine Gayle with us today. She has been a busy lady since we last heard from her, writing more of those wonderful Regency romances readers love AND creating the most fantastic contemporary romances. I could gush over her Portland Storm series forever, but I know you all would rather hear from Catherine.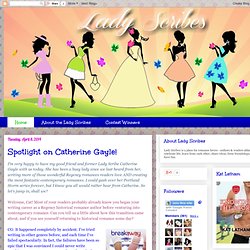 Lady Scribes
Blog - Murderati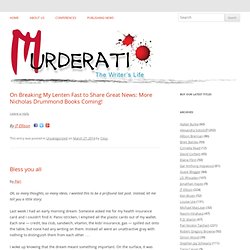 by Toni McGee Causey There was a time when I was terrified of the blank page. It had so much potential for mistakes, for making the wrong choices, for derailing into something derivative, and I'd freeze up.
tp://www.tribalwriter.com/2010/11/21/should-you-post-your-fiction-on-your-blog/
Time to confess: I'm a closet novelist. For the last six years, I've been sitting on a great plot, but I find the idea of writing a novel daunting. A few days ago, my best friend said to me, "You should write your novel this year. You know, the one where the young woman is in a bus in Rio de Janeiro, and she suddenly hears…"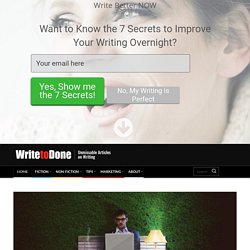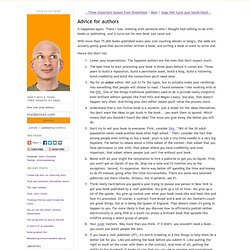 It happened again. There I was, meeting with someone who I thought had nothing to do with books or publishing, and it turns out his new book just came out. With more than 75,000 books published every year (not counting ebooks or blogs), the odds are actually pretty good that you've either written a book, are writing a book or want to write one.
Advice for authors
Fuel Your Writing
Essays on the Craft of Dramatic Writing!
What's new: My Name is Samuel Clemens by Bill Johnson A video about the life of Samuel Clemens, husband, father, and failed businessman, aka Mark Twain, American author and wit. Narrated by Sam Mowry. Video production and editing, Bill Johnson. Virginia Woolf, To the River by Bill Johnson
Writers write in order to be read. This is obvious. But the speed with which words, once written, are now being read—a speed shaped by technological innovations long before the Internet turned the quick turnaround into the virtually instantaneous turnaround—has set me to thinking about the extent to which writing, for the writer, ought to have a freestanding value, a value apart from the reader. There is too much talk about the literary marketplace, the cultural marketplace, and the marketplace of ideas. We need to remember that a book—or a painting or a piece of music—begins as the product of an individual imagination, and can retain its power even when largely or even entirely ignored.
Alone, With Words
http://www.nailyournovel.com/