Writing
911 Writers Block. ^ Back to top We use cookies, just to track visits to our website, we store no personal details.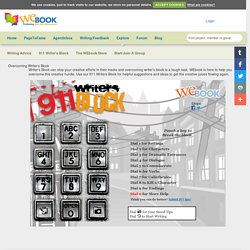 ACCEPT COOKIES What are cookies? Login Overcoming Writer's Block Writer's Block can stop your creative efforts in their tracks and overcoming writer's block is a tough task. The 10 Types of Writers' Block (and How to Overcome Them) #4 was a really common event in my undergrad screenwriting classes (where it was commonly called the Page 70 Problem or the Act 2 Dead Zone or some other ridiculous name).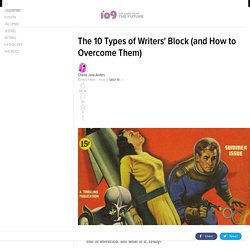 It is really where outlining-as-you-go can prevent problems. For instance, I might have a ten point outline for the whole story and as I catch up to various points I may go back over the outline and flesh out points with another outline. If a scene is really tricky, my outline might be as specific as three points for five pages. But something that is really simple may never get more than a "this happens". 25 Insights on Becoming a Better Writer. When George Plimpton asked Ernest Hemingway what the best training for an aspiring writer would be in a 1954 interview, Hem replied, "Let's say that he should go out and hang himself because he finds that writing well is impossibly difficult.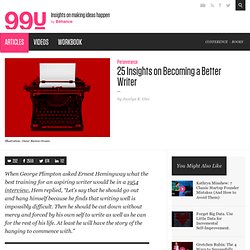 Then he should be cut down without mercy and forced by his own self to write as well as he can for the rest of his life. At least he will have the story of the hanging to commence with." Today, writing well is more important than ever. Writers block. Two different ways of making things: the hard way and the easy way.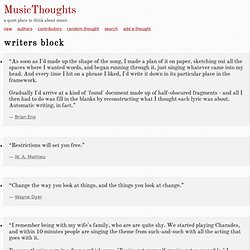 The hard way is the way of the individual artist who establishes his own terrain, as it were. The easy way is the way of grace and the way of tradition, where you don't even consider the possibility that you are there to make major innovations - you're there to make 200 parts today. One of the things I like about gospel music is that it has that same kind of humility, that the people who are singing it are not puckered-brow artists. There's the same freshness and thrill that you see in all kinds of folk arts. People doing something that is shaped by a whole lot of quite unconscious factors, like the limitations of their own vocal range.
Writing poetry
The Browser | Writing Worth Reading. Locus Online Features: Cory Doctorow: Writing in the Age of Distraction. From Locus Magazine, January 2009 We know that our readers are distracted and sometimes even overwhelmed by the myriad distractions that lie one click away on the Internet, but of course writers face the same glorious problem: the delirious world of information and communication and community that lurks behind your screen, one alt-tab away from your word-processor.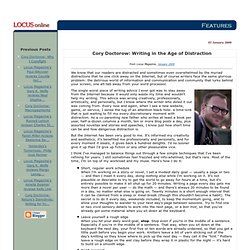 The single worst piece of writing advice I ever got was to stay away from the Internet because it would only waste my time and wouldn't help my writing. This advice was wrong creatively, professionally, artistically, and personally, but I know where the writer who doled it out was coming from. NANOWRIMO! Cure writer's block with writing prompts - writing tips character name generator.
WriteSomething. Procrastinating Writers. Resolve to Be a More Productive Writer (Happy New Year) Internet Resources - Writers Resources - Writing Links & Writers Links for Writers - Word Stuff. 5 Freewriting Secrets for Being a &Genius& | Psychology Today - StumbleUpon. You've heard of freewriting, certainly.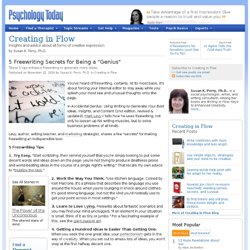 At its most basic, it's about forcing your internal editor to stay away while you splash your most raw and unusual thoughts onto the page. In Accidental Genius: Using Writing to Generate Your Best Ideas, Insights, and Content (2nd edition, revised & updated), Mark Levy tells how he uses freewriting, not only to loosen up his writing muscles, but to solve business problems of all kinds. Levy, author, writing teacher, and marketing strategist, shares a few "secrets" for making freewriting an indispensible tool: Five Creative Writing Projects You Can Do Today.
These creative writing projects only require you to write based on your own experiences or the wondering and fantasies of your constantly working brain.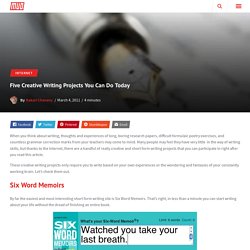 Let's check them out. Six Word Memoirs. Thirty Tools for Writers. [Author's note: Of the many things I've written for the Poynter website, none has been as popular as my "Twenty Tools for Writers.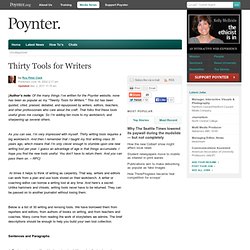 " This list has been quoted, cited, praised, debated, and repurposed by writers, editors, teachers, and other professionals who care about the craft. That folks find these tools useful gives me courage.
Fifty (50!) Tools which can help you in Writing. Don't Miss Any Tips!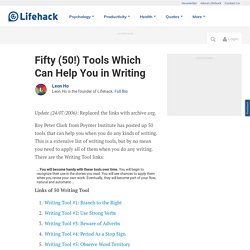 Like us on Facebook Close. 7 FREE Tools for Writers | There are hundreds of programs available to help writers no matter what your genre.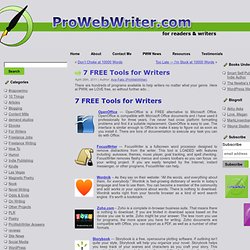 Here at PWW, we LOVE free, so without further ado… 7 FREE Tools for Writers OpenOffice — OpenOffice is a FREE alternative to Microsoft Office. OpenOffice is compatible with Microsoft Office documents and I have used it professionally for three years. Write to Done | Unmissable articles on writing. Writers: How to Avoid Stagnation. A Guest Post by Meredith Resnick of The Writer's [Inner] Journey When my kids were in middle school they got a lot of make-work for homework and classwork, stuff that kept them very busy but that steered them away from real creativity and by proxy, real learning.
This make-work gave the illusion that students were busy and oh so productive. Brainpickings.com. AdviceToWriters - Advice to Writers. Suite101.com: Online Magazine and Writers' Network. Henry Miller's 11 Commandments of Writing & Daily Creative Routine. By Maria Popova "When you can't create you can work." After David Ogilvy's wildly popular 10 tips on writing and a selection of advice from modernity's greatest writers, here comes some from iconic writer and painter Henry Miller. COMMANDMENTSWork on one thing at a time until finished.Start no more new books, add no more new material to 'Black Spring.'Don't be nervous. Work calmly, joyously, recklessly on whatever is in hand.Work according to Program and not according to mood.
WRITING. Recent Oy Vey, Christian Soldiers, on evangelicals' Bar Mitzvahs, for the New York Times Magazine Review of Nick Bilton's Hatching Twitter, a history of the tweet and its creators, for the technology issue of the New York Times Book Review. 4 Ways to Add Caffeine to Your Story. After the release of The Doctor's Lady, I'm beginning to realize readers are branding my stories as page-turners. I'm always flattered when a reader classifies one of my books that way. I like knowing readers had a hard time putting one of my books down (as opposed to being unable to pick it back up!). That doesn't mean my books are better than another author whose voice and story is slower and more flowing. Because there are stories you savor and read languidly much the same way you sip a rich creamy mug of hot cocoa. However, my stories are more like an iced coffee that you guzzle on a hot summer day.
Academic Coaching & Writing. Feb 07, 2011 by Caroline Eisner To become a good writer in your field or discipline, as Ken Hyland writes, is to pay close attention to your audience. Think about your rhetorical purpose and the academic standards of the genre in which you are writing. Are you clear about how to meet the expectations of your audience, to explain the purpose of why you are writing, and to both meet the needs of your audience and your purpose within the genre you are writing? When thinking about your academic audience, remember that academic writing is devoted to topics and questions that are of interest to this audience. You must find a topic or a question that is relevant and appropriate to this audience. Outlines: channeling your writing flow | Academic workflows on Mac.
Blogging
Review/Art; 'Andy Warhol, Cars': Last Works of the Artist. How to Write a Sentence: And How to Read One (9780061840548): Stanley Fish.
---