Presidential Libraries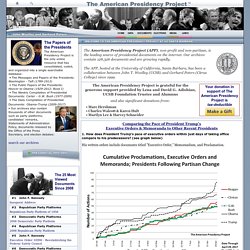 My fellow Americans: I am happy to have this opportunity to talk to you once more before I leave the White House. Next Tuesday, General Eisenhower will be inaugurated as President of the United States. A short time after the new President takes his oath of office, I will be on the train going back home to Independence, Missouri. I will once again be a plain, private citizen of this great Republic. That is as it should be.
The American Presidency Project
National Archives Presidential Libraries and Museums Main Page
Learn about Presidential Libraries Presidential Libraries promote understanding of the presidency and the American experience. We preserve and provide access to historical materials, support research, and create interactive programs and exhibits that educate and inspire. Visit the Presidential Libraries Presidential Libraries present vast archives of documents, museums full of important Presidential artifacts, interesting educational and public programs, and informative web sites. Research Presidential Documents Presidential Libraries are repositories for the papers, records and historical materials of the Presidents.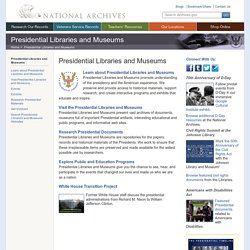 Harry S. Truman Library and Museum
The Herbert Hoover Presidential Library and Museum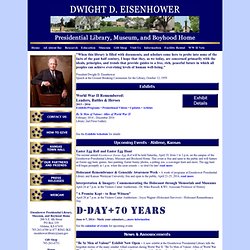 "When this library is filled with documents, and scholars come here to probe into some of the facts of the past half century, I hope that they, as we today, are concerned primarily with the ideals, principles, and trends that provide guides to a free, rich, peaceful future in which all peoples can achieve ever-rising levels of human well-being." President Dwight D. Eisenhower Speech at the Ground Breaking Ceremonies for the Library, October 13, 1959 World War II Remembered: Leaders, Battles & Heroes 2013 - 2016 Exhibits/Programs • Promotional Videos • Updates • Articles Be Ye Men of Valour: Allies of World War II February 2014 - December 2016 Library 2nd Floor Gallery See the Exhibits Schedule for details
Eisenhower Presidential Library and Museum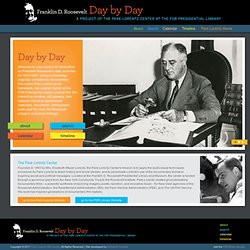 The Pare Lorentz Center Founded in 1993 by Mrs. Elizabeth Meyer Lorentz, the Pare Lorentz Center's mission is to apply the audiovisual techniques pioneered by Pare Lorentz to teach history and social studies, and to perpetuate Lorentz's use of the documentary format in inspiring social and political messages.
Home - FDR: Day by Day
Welcome, and thank you for helping us to share Lincoln's story with the world. Take time to look around. Be sure you stay informed and spread the word about our Nation's 16th President, Abraham Lincoln. You will find you're in good company. You might even want to Donate Now to help us in our mission of support for the Abraham Lincoln Presidential Library and Museum as it preserves and interprets the Lincoln Legacy.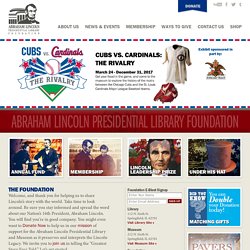 The Official Website of the Abraham Lincoln Presidential Library and Museum