Presidential Libraries
The American Presidency Project. The Presidents. National Archives Presidential Libraries and Museums Main Page. Learn about Presidential Libraries Presidential Libraries promote understanding of the presidency and the American experience.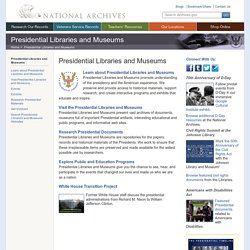 We preserve and provide access to historical materials, support research, and create interactive programs and exhibits that educate and inspire. Visit the Presidential Libraries Presidential Libraries present vast archives of documents, museums full of important Presidential artifacts, interesting educational and public programs, and informative web sites. Research Presidential Documents Presidential Libraries are repositories for the papers, records and historical materials of the Presidents.
Harry S. Truman Library and Museum. The Herbert Hoover Presidential Library and Museum. Eisenhower Presidential Library and Museum. Franklin D. Roosevelt Presidential Library and Museum. Home - FDR: Day by Day. The Pare Lorentz Center Founded in 1993 by Mrs.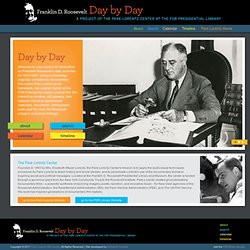 Elizabeth Meyer Lorentz, the Pare Lorentz Center's mission is to apply the audiovisual techniques pioneered by Pare Lorentz to teach history and social studies, and to perpetuate Lorentz's use of the documentary format in inspiring social and political messages.
The Official Website of the Abraham Lincoln Presidential Library and Museum.
---