Quizes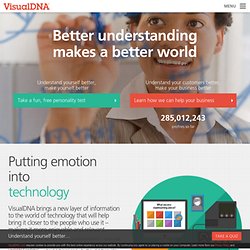 VisualDNA brings a new layer of information to the world of technology that will help bring it closer to the people who use it – making it more enjoyable and relevant. Technology provides businesses with a surfeit of DATA – what and when. However it provides very little in the way of UNDERSTANDING – who did things, and why they did them. We see this effect in all areas of business from marketing to financial services. Despite all the targeting and site metrics, digital marketing isn't getting any more effective. And despite all the data gathering there's a limit to what credit histories can tell financial services about customers and potential customers.
100 Things Personality Test - VisualDNA
Your Quiz Results: Test 1: You are an Introvert (I). Test 2: You are an Intuitive (N). Test 3: You are a Feeler (F).
Famous INFPs