Phycology
10 Psychological Experiments That Went Horribly Wrong. Psychology as we know it is a relatively young science, but since its inception it has helped us to gain a greater understanding of ourselves and our interactions with the world.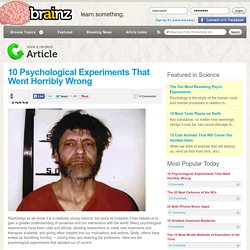 Many psychological experiments have been valid and ethical, allowing researchers to make new treatments and therapies available, and giving other insights into our motivations and actions. Sadly, others have ended up backfiring horribly — ruining lives and shaming the profession. Here are ten psychological experiments that spiraled out of control. 10. Part 3: How a marshmallow can predict your future. 47 Mind-Blowing Psychology-Proven Facts You Should Know About Yourself. WHAT YOU ARE ABOUT TO READ IN THE NEXT PARAGRAPH IS COMMONLY BELIEVED, BUT NOT TRUE – You read by recognizing the shapes of words and groups of words.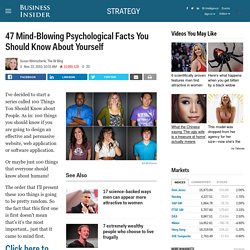 Words that are in all capital letters all have the same shape: a rectangle of a certain size. This makes words displayed in all uppercase harder to read than upper and lower case (known as "mixed case"). Mixed case words are easier to read because they make unique shapes, as demonstrated by the picture below. OK, NOW THE TRUE STUFF STARTS — When I started this article the topic was supposed to be why all capital letters are harder to read. Watch Psychology Documentaries Online Free.
In Holding the Sun we get to look into a Canadian family's struggle to save their son from schizophrenia and cope with the consequences of the condition.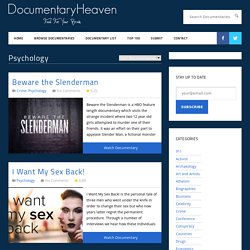 The Millar family was torn apart when on May 30th, 1997, Ruth Millar's son Aaron came calmly up behind her and stuck a sword through her heart. Earlier that morning Ruth wrote to her husband about Aaron's schizophrenia. She said he was looking quite psychotic these days, not in a harmful way but simply because he lives in his own world. She explained that... Science & Nature - Human Body and Mind - Mind.
What is Psychology - Modern Psychology Defined | Psychology Canada. The field of Psychology is such a vast area of ranging expertise, but what is Psychology in the modern era as we know it?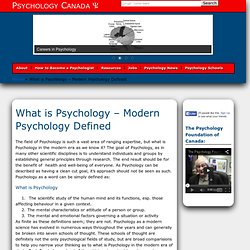 The goal of Psychology, as in many other scientific disciplines is to understand individuals and groups by establishing general principles through research. The end result should be for the benefit of health and well-being of everyone. 5 Psychological Experiments That Prove Humanity is Doomed. Cracked.com's new book is now on sale.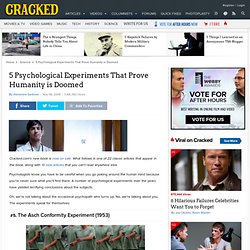 What follows is one of 22 classic articles that appear in the book, along with 18 new articles that you can't read anywhere else. Psychologists know you have to be careful when you go poking around the human mind because you're never sure what you'll find there. A number of psychological experiments over the years have yielded terrifying conclusions about the subjects. Psychology Today: Health, Help, Happiness + Find a Therapist. The Stanford Prison Experiment: A Simulation Study of the Psychology of Imprisonment. 5 Ways To Hack Your Brain Into Awesomeness. Much of the brain is still mysterious to modern science, possibly because modern science itself is using brains to analyze it.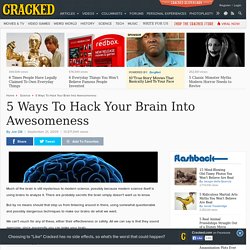 There are probably secrets the brain simply doesn't want us to know. But by no means should that stop us from tinkering around in there, using somewhat questionable and possibly dangerous techniques to make our brains do what we want. We can't vouch for any of these, either their effectiveness or safety. All we can say is that they sound awesome, since apparently you can make your brain... Think You Got a Good Night's Sleep (After Only Two Hours of Actual Sleep)
---