Do It Yourself Three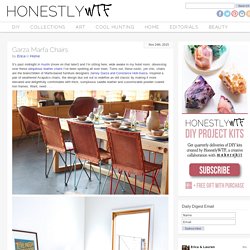 Are you ready for cuteness overload? Meet Zoey and Jasper. I am so inspired by animal photographer Grace Chon, who has documented the budding friendship between her 10 month old baby boy and their rescue pup.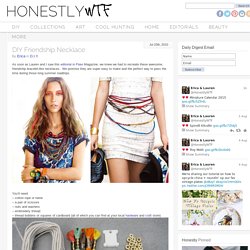 As soon as Lauren and I saw this editorial in Flare Magazine, we knew we had to recreate these awesome, friendship bracelet-like necklaces. We promise they are super easy to make and the perfect way to pass the time during those long summer roadtrips. To make a 2-tone necklace, cut a long piece of rope and wrap two different colors of embroidery thread around its own bobbin. Tie a starter knot along with the two colored threads you are using, leaving at least 3 inches of slack, Tape down the slack to a flat surface or safety pin it something that will help keep it in place (feeling nostalgic yet?). Lay the color that isn't being used (shown here in purple) in your left hand, along with the rope, and hold them taut.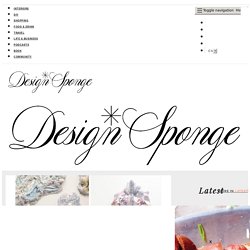 One of my biggest goals on the site this year, as well as Kristina's, was to expand the type of kitchen and food related content we offer. Kristina has posted over 300 delicious recipes on Design*Sponge so far, but we wanted to dig deeper and learn more about the people behind those recipes. From what their daily lives are like and what tools they swear by to what inspires them and the work they create, this year we're adding a few new columns in the food section that are devoted to bringing you the same sort of practical information, tips and tools that our new design columns do. With that in mind, we're thrilled to kick off a new series that celebrates cooking tools that chefs and bakers swear by- and tips for using them. Two of my favorite people (and bakers) in the whole world, Cheryl and Griff Day, are starting us off this week.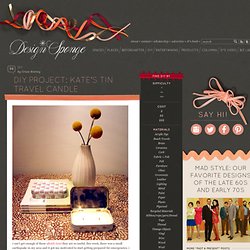 kate's tin travel candle
i can't get enough of these altoids tins! they are so useful. this week, there was a small earthquake in my area and it got me motivated to start getting prepared for emergencies. i covered this tin with pretty paper to make a nice travel candle (mint scented…get it??), but you could make a bunch of these quickly for emergency kits, camping, etc. enjoy!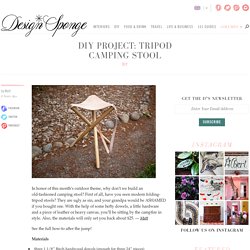 In honor of this month's outdoor theme, why don't we build an old-fashioned camping stool? First of all, have you seen modern folding-tripod stools? They are ugly as sin, and your grandpa would be ASHAMED if you bought one. With the help of some hefty dowels, a little hardware and a piece of leather or heavy canvas, you'll be sitting by the campfire in style.
tripod camping stool
My knitting skills are pretty basic, but I've been wanting to expand them, especially for home projects. After a failed attempt at a blanket last winter, I hung up my needles and haven't really returned to knitting since. This simple knit pillow tutorial is just the kind of project to pull me back, even in the warmer months. Anne Weil of Flax and Twine created an easy-to-follow tutorial for finger knitting, but then decided to make this chunky striped knit pillow DIY as an example of how to use the finger knits. Finger knitting is a great craft for kids, but as you can see here, the simple knitted strands can be quite sophisticated when used for sewing projects. I love how textural and rich this pillow looks, and I'm picturing tons of great variations: fun color combos like navy and red, pink and coral, camel and bright yellow.
chunky finger-knit pillow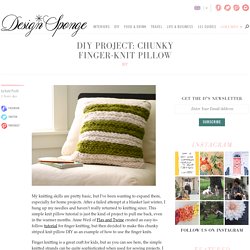 I like perfect, but I'm a bigger fan of perfectly imperfect. The blanket-stitch is one of those imperfect things I'm ok with. It's like the whittling of hand sewing.
DIY Project: Stitched Wool Phone Case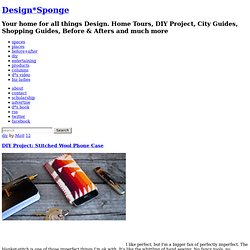 Try as I might, I cannot seem to grasp even the most basic of feminine beauty rituals. I'm constantly struggling to master rudimentary hair and makeup techniques, and my one-time foray into the "subtle" art of perfume left everyone in the room with burning nostrils. This DIY solid perfume locket from artisanal perfumer Mandy Aftel is something I can definitely stand behind, though. Mandy only uses pure and natural ingredients to create her perfumes, and this solid scent can be easily applied with no risk of over-dousing. The old pocket watch appeals to my tomboy side, and I love its versatility; you can wear it as a necklace or pin, or simply tuck it into your pocket or purse.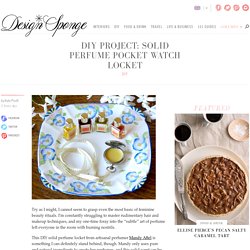 before & after: bohemian chic nursery
One of the joys of working for D*S is our loyal readership. We love seeing repeat submitters over the years because it means we get to follow their lives a little bit: first home, first office, first nursery, and so forth; it's kind of like being part of the family. We're longtime fans of designer Justina Blakeney's style: it's bohemian, feminine, earthy, effortless and so much fun. We've posted a few of her projects before, and now she's sharing her brand new nursery with us. Unsurprisingly, I love it! Utilizing some collected knick-knacks from around the house, a few gifted pieces and some fun DIY projects (including a pot rack for hanging clothes and an upholstered wall like Amanda's — yay!)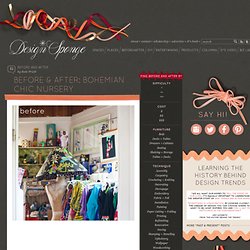 faux french windows
A couple weeks ago, Daniel submitted a living room redesign, and it was a huge hit, especially the work he did to transform the plain windows into this beautiful paned version. Daniel was kind enough to offer a tutorial on how to recreate the wooden panes. As it turns out, with just a little patience and precision, you can have these windows in no time! Here's the scoop from the designer himself.