Do It Yourself Nine
Leather Lunch Tote | Wood&Faulk
I don't bring my lunch to work as often as I should. And by that, I mean never. What if I had a cool lunch tote? It might not help… but at the very least, it's a fun project to practice some hand-sewing and to make something interesting.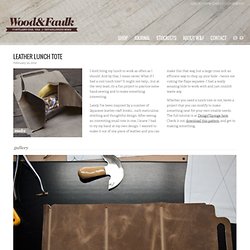 Wool Camera Wrap | Wood&Faulk
No one wants to get stranded outside in the winter, right? Here's your chance to sew up a handy compass pouch before you embark on any winter treks. This idea was sparked after talking projects with Michael Williams from A Continuous Lean, who recently visited our shop. He's published the full post here, and it's incredibly exciting to be on ACL. I don't get too crazy on my adventuring these days, but there's a few canoe spots near Portland that you could easily get confused and not realize where you put the boat in. Throw in some bad cell reception and maps won't save you either.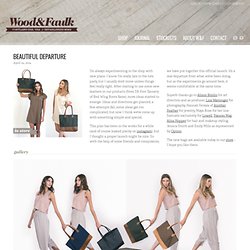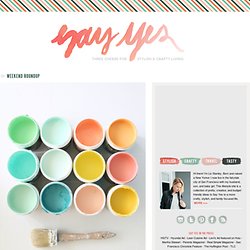 Weekend Roundup Up to anything fun this weekend? I think we might head out on a camping trip tomorrow morning. It'll be Edie's first time, I hope it goes okay and that everyone gets some sleep.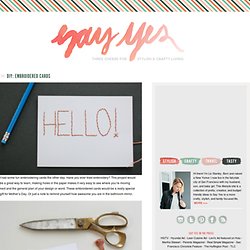 Embroidered Cards
I had some fun embroidering cards the other day. Have you ever tried embroidery? This project would be a great way to learn, making holes in the paper makes it very easy to see where you're moving next and the general plan of your design or word. These embroidered cards would be a really special gift for Mother's Day. Or just a note to remind yourself how awesome you are in the bathroom mirror. See the full step by step right here on Momtastic and, in case you missed it, here are my instructions for creating animated gifs like this one above.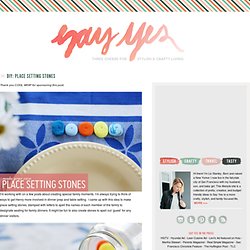 Place Setting Stones
Thank you COOL WHIP for sponsoring this post. I'm working with COOL WHIP Whipped Topping on a few posts about creating special family moments. I'm always trying to think of ways to get Henry more involved in dinner prep and table setting. I came up with this idea to make place setting stones, stamped with letters to spell the names of each member of the family to designate seating for family dinners. It might be fun to also create stones to spell out 'guest' for any dinner visitors. I've talked about my mini stamp kit from Paper Source that I love.
I've been eying leather fold over clutches in bright colors like these beauties below for some time now and thought they would make a really great DIY project. It's a really simple project and a great way to add a punch of color to your spring outfit. Cause it is all. about. color this season. For these final product images, I teamed up with photographer Kate Skogen of JetKat Photo who specialized in weddings in the bay area.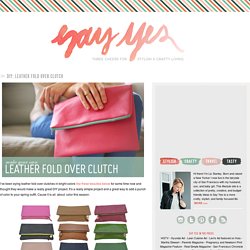 With Mother's Day coming up in a couple weeks, these handmade clay pots are the perfect vessel to house a mini plant as a pretty and thoughtful gift. Keep reading to see the full instructions, downloadable pdf, and step by step images Here are the instructions: You will need: - Knife - Oven-bake clay