Do It Yourself Five
Make The World Your Playground With UpSwing
DIY Humpback Whale Knitting Pattern :: vintage + modern design for kids and the home
Cool Craft Ideas for Kids
Simple DIY Wooden Toy Cars
Play and Grow is an amaz­ing blog by a Russ­ian archi­tect that has a pas­sion for mak­ing hand­made card­board toys for his lit­tle girl. The site is filled with great diy tuto­ri­als for upcy­cling card­board into early learn­ing toys. A few favorites: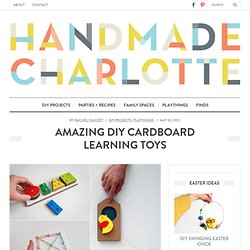 Amazing DIY Cardboard Learning Toys
Projects: Cereal Box Village
Projects: Pennant Rubber Stamp Roller
Etsy Finds: Envelope Templates :: vintage + modern design for kids and the home
As soon as the snow cone shack in our neighborhood opens up, we know that Summer is officially here! The bright candy colors and the sparkle of glittery ice makes the eyes light up of both young and young-at-heart! What better way to capture the essence of summertime fun and bring it indoors, than with this sweet DIY Faux Snow Cone Garland and Gift Embellishment. Bonus: these ones won't melt everywhere!
DIY Faux Snow Cone Party Garland & Gift Embellishment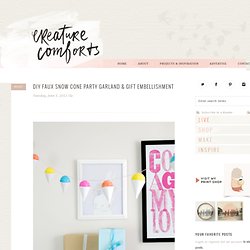 DIY Tag-Shaped Stamps Two Ways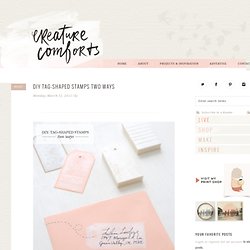 I shared the shipping packaging for my old print shop a long while back, and have had so many inquiries into the making of the tag stamp that I made / used, that I thought it was about time that I finally create a proper DIY to share with you all. Hooray! This DIY post was sponsored and made possible by Method…"Clean Happy."
My house is much like a person; in that it is filled with plenty of quirks and faults, but I am determined to love it regardless. That doesn't mean that I can't find ways to improve it however…and the simplest and most dramatic way that I've found to do that is with the magic of paint. After moving in last Spring, I started dreaming of two easy paint-related mini makeovers that I wanted to try. So when Valspar Paint got in touch and asked if I would like to use their paints on any upcoming home paint projects, I jumped at the opportunity. The two projects I decided to take on were: